Artist: Kalacakra
Title Of Album: Crawling To Lhasa
Year Of Release: 1972/2001
Label (Catalog#) : Garden Of Delights [CD 053]
Country: Germany
Genre: Psych Prog Folk Rock, Krautrock
Quality: FLAC (*tracks+cue,log,scans)
Bitrate: Lossless
Total Time: 00:53:04
Total Size: 353Mb
Kalacakra biography
A very odd band formed by the duo Claus Rauschenbach ("guitars, kongas, percussions, vocals, harmonica, slentem") and Heinz Martin ("electr. guitars, flute, piano, vibraphon, schalmi, cello, violin, synthesizer"). The band released only one album in its all career. The name KALACAKRA refers to one of the main Tantric deities of Vajrayâna Buddhism which means "wheel of time". Their sound can be called as "mantric" acid folk. Thus the compositions have a heavily eastern influence (near to "raga" rock experiences) with a lot of flute, sitar and percussions. This meditative musical background provides a few musical interludes quite charming and dreamy. The general mood of the album is dominated by solid blues guitar sections accompanied by stoned, depressive vocals (in German) and many freak out, psychedelic rock sequences. The atmosphere of Kalacakra's musical universe is rather mysterious, sinister with a few humorous accents. Consequently it is an other acid trip from the early German underground, a good mixture of prog / psych and folk ingredients.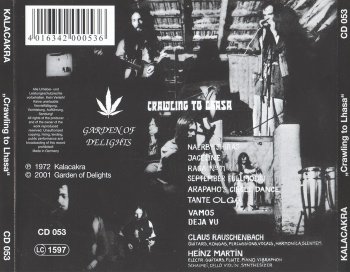 Tracks:
-------
1. Naerby shiras (9:16)
2. Jaceline (6:15)
3. Raga No 11 (5:34)
4. September fullmoon (9:35)
5. Arapaho's circle dance (2:28)
6. Tante Olga (7:31)
Bonus tracks on cd release:
7. Vamos (6:48)
8. Deja vu (5:38)

Tracks 1 to 6 original released on LP in 1972.
Tracks 7 and 8 are bonus tracks, recorded on 4 track cassette, August 1993.

Personnel:
------
Claus Rauschenbach / Guitar, Congas, Percussion, Vocals, Harmonica, Slentem
Heinz Martin / Guitar, Flute, Piano, Vibraphone, Schalmei, Cello, Violin, Synthesizer

All thanks to original releaser
Внимание! У Вас нет прав для просмотра скрытого текста.