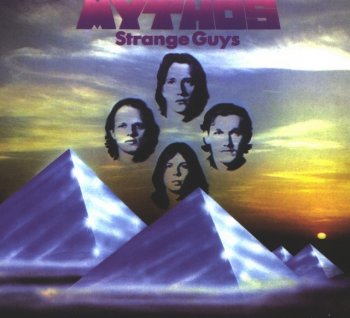 Artist:Mythos
Title Of Album: Strange Guys
Year Of Release 1978/1997
Label (Catalog#) : Spalax Music [SPALAXCD14570]
Country: Germany
Genre Krautrock, Prog Rock
Quality: Ape (*image + .cue)
Total Time: 00:41:50
Total Size: 268Mb(+3%)(covers)
Mythos biography
Founded in Berlin, Germany in 1969 (as The Lovely People) - Disbanded in 1980 - Reformed at times as a solo project by Stephan Kaske

MYTHOS emerged from the Berlin underground scene in 1969. Less known than others german bands and artists as AMON DUUL, Klaus SCHULZE... they also signed their debut effort for the legendary ohr label. Their first two albums "Mythos" and "Dreamlab" represent Krautrock at its finest. The general mood of the band during that period was orientated to free space/psychedelic music with a lot of electric organs and keyboard parts. Their self title album includes acoustic and oriental elements as flute, sitar... which add a mystical flavor to the music. The following albums will be very far from the space, peaceful and strange music developped in the two first albums. The releases of "Concrete City" and "Strange Guys" show a new musical direction taken by the band, they turned to something more mainstream, synth, with numerous short songs. Nevertheless their two first are an absolute must for prog completists and all fans of Krautrock.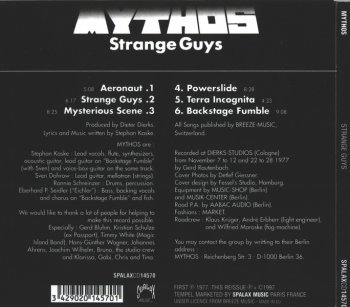 Tracks:
-------
1. Aeronaut (5:08)
2. Strange Guys (6:17)
3. Mysterious Scene (8:25)
4. Powerslide (8:28)
5. Terra Incognita (4:33)
6. Backstage Fumble (9:08)

Personnel:
---------
Stephan Kaske / lead vocals, flute, lead (6) & acoustic guitars, synthesizer, composer
Sven Dohrow / lead guitar, Mellotron
Eberhard P. Seidler ("Eichler") / bass, backing vocals (6)
Ronald Schreinzer / drums, percussion

All thanks to original releaser
Внимание! У Вас нет прав для просмотра скрытого текста.