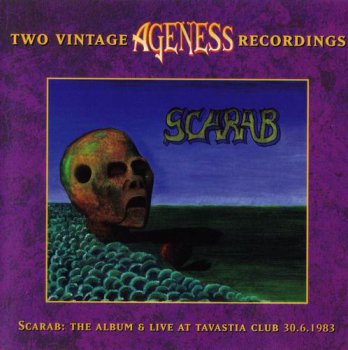 YEAR: 1983
STYLE: Symphonic Progressive Rock
FORMAT: FLAC (Image + Log + .Cue + Scans + 5% Recovery)
SIZE: 421 Mb
COUNTRY: Finland
THE BAND:
Tommy Eriksson / flute, vocals; Kari Saaristo / percussion, drums; Jari Ukkonen / bass; Vesa Auvinen / guitar; Jari Laasanen / keyboards
Еще одна группа, помешанная на волне Genesis...
You don't need to be a cryptologist to notice immediately that AGENESS is almost an anagram for GENESIS, so it's easy to suspect who are the main influence of this Finnish band, and when you listen their music, it's more than evident they try to sound as the great British band with a touch of Rush. Despite one of the founders claims being influenced by KANSAS, JETHRO TULL and DIXIE DREGS, I feel nothing of them.

AGENESS was formed in Helsinki in 1991 by Tommy Eriksson (Flute, vocals) and Kari Saaristo (Drums & percussion) from the ruins of a very good band called SCARAB formed by a bunch of school kids who self produced an album and were only able to release 180 copies.

With Vesa Auvinen (guitars), Jari Laasanen (Keyboards, Backing vocals) and Jari Ukkonen in the Bass, they release in 1992 their debut album called "Showing Paces" which apart from the obvious GENESIS references, presents a hard edge with some resemblances of RUSH.

The 90's was a very active decade for the band and in 1995 they release their second album "Rituals" with a more evident Neo Prog sound closer to Marillion and IQ but without leaving their original influences behind.

The next year, the band re-releases SCARAB, this time with some AGENESS tracks recorded on stage.

In 1998 the band releases "Imageness" with Marko Karhu replacing Vesa Auvinen in the guitars, this album represents a return to the roots or more clearly to the borderline that divides Symphonic from Neo Prog.

AGENESS has not released a single album since 1998, but this doesn't mean they have been inactive; they have played in several Festivals and toured with some regularity. Mixing their own music with some Rush and Peter Gabriel covers..

According to an interview with Tommy Eriksson, the are working on a new album this time with Vesa Auvinen who has returned to the band, sadly this interview has some years and still there are no news this release.

Good band for Genesis fans and also for those who like Neo Prog with a hard edge.
http://www.progarchives.com
Track Listing:
1. Day of Doom (3:49)
2. Asylum 32 (3:26)
3. Haze and Visions (2:48)
4. Dor- En- Dor (4:49)
5. Grain of Sand (4:54)
6. Finale (1:16)
7. Praying Stone (3:48)
8. For Her Son (5:01)
9. Mortal Wings of Sin I (6:46)
The Band:
- Tommy Eriksson / flute, vocals
- Kari Saaristo / percussion, drums
- Jari Ukkonen / bass
- Vesa Auvinen / guitar
- Jari Laasanen / keyboards
Внимание! У Вас нет прав для просмотра скрытого текста.