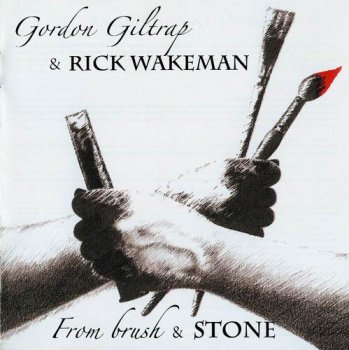 YEAR: 2009
STYLE: Progressive Rock
FORMAT: FLAC (Image + Log + .Cue + Scans + 5% Recovery)
SIZE: 291 Mb
COUNTRY: UK
THE BAND:
Gordon Giltrap / guitars; Rick Wakeman / Keyboards
Finally after many years of work together Gordon Giltrap and Rick Wakeman have recorded a collaborative album.
The album entitled "From Brush And Stone", which was recorded late in 2007, finds both musicians in top form.
Both Gordon and Rick have worked together frequently although this will be the first time both have worked together on a full album.
Initial copies of the album will also include a DVD of an Interview filmed in July 2007 and also live tracks.

Gordon had this to say about the album...
"First of all the title. We wanted it to pretty much say on the tin what the music is all about. The theme running through the main bulk of the album apart from two tracks, Maddie Goes West and By Angle Tarn is music inspired by two art forms, painting and sculpture, and to that end I came up with the title of FROM BRUSH AND STONE. Rick's tracks relate to sculptural images, such as classics like The Kiss and Michelangelo's David, and my pieces are five movements from The Brotherhood suite, the pre-Raphaelite inspired composition dating back to 1987".
The Album should be released in late Spring on Voiceprint Records.

Track Listing:
1. The Savannah Bird (3:22)
2. Caesar Augustus (8:06)
3. The Kiss (4:19)
4. Hermes (3:19)
5. The Thinker (4:45)
6. David (3:23)
7. The Discus Thrower (3:07)
8. The Last Of England (5:09)
9. Spring (2:49)
10. The Death Of Chatterton (5:28)
11. The Light Of The World (3:10)
12. Work (3:50)
13. By Angle Tarn (3:54)
14. Maddie Goes West (4:08)
The Band:
Gordon Giltrap / guitars
Rick Wakeman / Keyboards
Внимание! У Вас нет прав для просмотра скрытого текста.