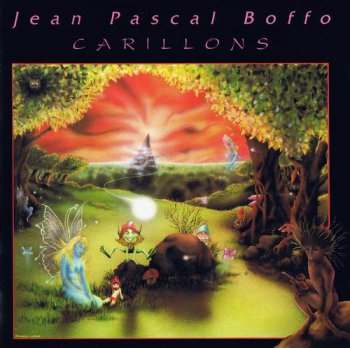 YEAR: 1987
STYLE: Progressive Rock/ Jazz Rock
FORMAT: FLAC (Tracks + Log + .Cue + Scans + 5% Recovery)
SIZE: 314 Mb
COUNTRY: France
THE BAND:
Jean-Pascal Boffo / guitars, bass; Denis Batis / synthesizer; Carlos Pavicich / bass; Hervé Rouyer / drums
JEAN-PASCAL BOFFO is a French artist who has been involved in several bands ranging from progressive rock to classic jazz, and recorded a series of solo albums in between his collaborations with various bands and artists.

His first stint as a band member was with the progressive rock band MANDRAGORE, which he joined in 1975. Later he joined progressive rock outfit TROLL, and in 1986 Boffo released his first solo album. "Juex De Nains" was issued by French label Musea Records. It was an acoustic album, the only one of his solo releases to date exploring this style and sound.

1987's "Carillions" brought back the pure-form experimentalism of MANDRAGORE, with jazz-inspired sessions and richer arrangements, electric as well as acoustic this time around.

"Ritual", released in 1988, is his first truly progressive effort, recorded with hired musicians and echoing classical compositions.

Since then, BOFFO has been involved in bands such as SAWURII and CHRISTIAN DECAMPS & FILS, and has recorded a series of solo albums, icluding the middle-east influenced "Nomades" and his project in partnership with DELAUNAY ERIC and COPPIN GILLES, "Deboco".

His most remarkable creations as a solo artist are "Ritual", for it's progressive character and intelligent compositions; and "Nomades" for the unique mid-eastern flavors.

JEAN PASCALL BOFFO stands out as an excellent musician even in his most simplistic projects, where his guitars become the irresistible spotlight. In later years Boffo has started to widen his scope as an instrumentalist too; not limiting himself solely to guitars anymore.
http://www.progarchives.com
Track Listing:
1. Bienvenue au pays (3:38)
2. Joyeuses Paques (5:34)
3. Carrousel (4:07)
4. Le cycle du cristal (4:38)
5. Conte a rebours (3:52)
6. L'Ile aux lutins (7:04)
7. Fete eu perspective (3:13)
8. Le retour de nains (4:03)
9. Horizon (3:58)
10. A cordes imaginaires (4:31)
The Band:
- Jean-Pascal Boffo / guitars, bass (1, 3 & 4)
— Denis Batis / synthesizer
— Carlos Pavicich / bass (2, 6-7, 9)
— Hervé Rouyer / drums
Внимание! У Вас нет прав для просмотра скрытого текста.