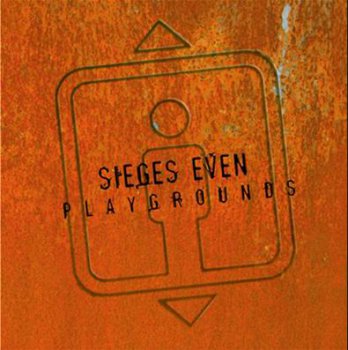 YEAR: 2008
STYLE: Progressive Metal
FORMAT: FLAC (Image + Log + Cue + 5% Recovery)
SIZE: 499 Mb
COUNTRY: Germany
THE BAND:
Arno Menses / vocals; Oliver Holzwarth / bass; Markus Steffen / guitars; Alex Holzwarth / drums
Sieges Even is a band composed of really good German musicians and two of their members, the Holzwarth brothers, even play regularly with bands like Blind Guardian or Rhapsody. Despite this really honorific status, their main official band is not extremely famous. Sure, some true fans of Progressive Metal know this German combo but Sieges Even still need to find a better fan-base and maybe that their first live album "Playgrounds" will be a good way for some people to discover this really good combo.

Sieges Even has released seven studio albums during its long career (which has started in the middle of the eighties) and finally, their first official live album can look a bit short. Only ten songs with no more than sixty nine minutes of music that probably not enough for a band like Siges Even, though at least the album features good songs even if the first albums are a bit forgotten here. Musically speaking, the guys of Sieges Even show that they're really great musicians and their technical Progressive Rock/Metal is just excellent. If you don't know the band, "Playgrounds" will be a perfect way to discover the musical universe of the combo which mix with a lot of abilities, really technical parts with rock melodies and jazzy elements. Sieges Even cannot be compared to a band like Dream Theater because the combo is not so Heavy and powerful but if you like Rock Progressive bands like Toto and if you would like some heavier version of their music, I think that it will be ok here. Sieges Even is not full of speed and rhythm their music is deep and intelligent but at least this is not so elitist and really accessible for a large audience. Sieges Even play good Prog and you'll have the proof here.

The live album is really well recorded and you'll hear all the instruments and singer without any problem. But I regret that the crowd is not so active, are they sleeping or is it just not really well mixed, I don't know but the general ambiance of this concert is a bit cold. Ok, the music of Sieges Even is not something done to party and Prog Metal concerts in general are not the most crazy things of the Metal world but too bad that we don't have a bit more of noise coming from the crowd…

Despite this little lack of ambiance, "Playgrounds" is a good live album. The songs and the musicians are great so really this is a really good "best-of". Some classic old songs are maybe missing but all in all I'm sure that the fans of Sieges Even will be happy with this release. "Playgrounds" is not THE perfect live album but it's a good way to discover a great band and pass a great Progressive moment.
http://www.metalstorm.ee
Track Listing:
01. When Alpha And Omega Collide
02. Tidal
03. Unbreakable
04. The Waking Hours
05. Iconic
06. These Empty Places
07. Duende
08. Paramount
09. The Lonely Views Of Condors
10. The Weight
The Band:
- Arno Menses / vocals
- Oliver Holzwarth / bass
- Markus Steffen / guitars
- Alex Holzwarth / drums
Внимание! У Вас нет прав для просмотра скрытого текста.