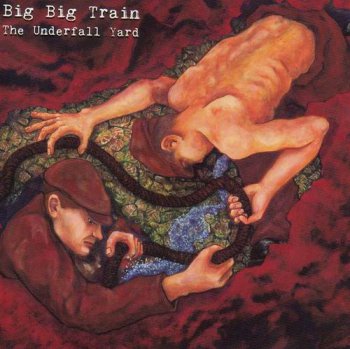 YEAR: 2009
STYLE: Neo Progressive Rock
FORMAT: FLAC (Tracks + Log + Cue + 5% Recovery)
SIZE: 426 Mb
COUNTRY: USA
THE BAND:
Andy Poole / bass, keyboards; Greg Spawton / guitars, keyboards, bass; David Longdon / vocals, flute, glockenspiel; Nick D'Virgilio / drums
Surprise - surprise. I can't figure it out - every time I listen to this album at least a little sounds new to me in some way. Respect! This occurs not often I have to confess. Stylistically BIG BIG TRAIN don't have turned away from what they have offered before really - however, I'm nailed on here - even when listening for more than ten times now. Wow ... it's hard to find the right words for the compositional attempt.

Well - of course some things are new. First - Sean Filkins is substituted by David Longdon, so they've changed the singer once more. Not that I have any problem with that - on top of it a multi-instrumentalist (offering several flute contributions) he's comfortably embedded in this context and has a rather important role for the album's success. Summarized he's very present - expressive - often polyphonic, also speaking of the mix - concerning the voice nearly acting like an additional instrument as one may say.

On the opener Evening Star his vocals even appear choir arranged - designated to initiate the band's warm up for the complete course. What may surprise one or two is the lush brass instrumentation which appears on some songs. Well, they play so light-hearted as never before whilst picking up the best times of Genesis and Yes here. And so the album includes some nice references to wellknown prog paragons - the Hackett reminiscent guitar here and there as one example - or the mellotron layers all over - sometimes it's even the complete symphonic mood.

'He used to build castles of stone' - a catchy phrase dominates Master James Of St. George - wonderful melodic using a intriguing combination of vocals, keyboards and guitars. After some rounds this is my favourite - yes indeed! (may change anytime soon though) Victorian Brickwork more or less points to Steve Howe's Yes - seemingly taking a bow - often copied but this is more subtle, really well made and having something of an epic.

Last Train now follows and this Foxtrot/Selling England adapted vibe immediately wraps me up ... wait - I don't want to be misunderstood - they are offering hints here incorporated in a unique BIG BIG TRAIN entity - excellent! Winchester Diver continues slightly Marillion reminiscent as for the vocals predominantly and then - to be honest, how else could it be - the ultimate epic title song crowns the whole album. Well - It makes you really accessible after several rounds finally - gripping - a fascinating tour de force with 23 minutes summarizing all the band's qualities at once - the point of culmination.

If I will be faced with a decision to recommend a typical progressive rock album to someone in the near future I would take this one. Some days ago I was on the road with my wife and took a chance to enter into 'The Underfall Yard' (unfortunately interrupted by several traffic jam announcements) ... she's not a prog fan as such but was really impressed ... especially because we could immediately compare with stuff offered by commercial radio stations. What a salient contrast! Yes - this directly makes you aware of how substantial this music genre is.

Full-value instrumentation, not overproduced though - playful songs with Greg Spawton's hijacking guitar work and a rich vintage keyboard substance - you will often find supportive backing mellotron layers when it comes to a melancholic turn. So my conclusion is, and it probably may take some years until this is confirmed for good: after several attemps the band just now have reached for the masterpiece - everyone involved here, including drummer Nick D'Virgilio, does a great job - completely rounded this time - congrats.
http://www.progarchives.com
Track Listing:
01. Evening Star (4:53)
02. Master James Of St. George (6:19)
03. Victorian Brickwork (12:33)
04. Last Train (6:28)
05. Winchester Diver (7:31)
06. The Underfall Yard (22:54)
The Band:
- Andy Poole / bass, keyboards
- Greg Spawton / guitars, keyboards, bass
- David Longdon / vocals, flute, glockenspiel
- Nick D'Virgilio / drums
Внимание! У Вас нет прав для просмотра скрытого текста.