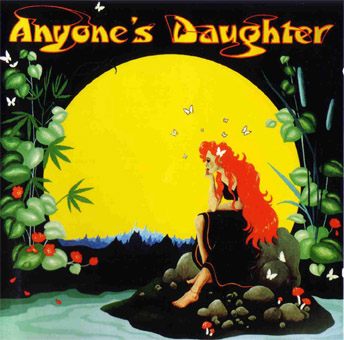 Исполнитель: Anyone's Daughter
Альбом: Anyone's Daughter
Origin: germany
Жанр: progressive rock, art-rock
Год: 1979
Формат: FLAC (image + cue+ Log)
Битрейт аудио: lossless
Размер: 237 MB
Залито на: Ifolder (3% восстановление)
Дополнительно: Covers

Another symphonic German band in the vein of Eloy & Genesis Anyone's Daughter were formed in the seventies and disbanded with the release of 1986's Last Track album. The band reformed in 2000 to release two additional studios and one live album.
While the band originally recorded mostly English lyrics, they returned to their native German the last several years of their original existence. Their debut album Adonis is distinguished by the sidelong track of the same name, a four-part epic featuring heavy use of keyboards (primarily Moog), and periodic violent crescendos combined with languid guitar lulls. The band's subsequent albums were increasingly filled with shorter, often experimental works and occasional spoken-word passages. While the early music can be favorably compared to Genesis, their later work is more in the style of German contemporaries like Grobschnitt and Amenophis.
The band's musical peak is arguably their third release Piktors Verwandlungen, a ranging experimental concept album based loosely on Herman Hesse's novel "Pictor's Metamorphosis", a brooding lament of lost innocence and spiritual exploration. This was also the band's first recording in their native German tongue.
The band toured heavily in the early eighties before civil service commitments and outside interests caused their eventual fracture in 1986. With their reformation in 2000, the band has returned to English vocals, and have adopted a sound that ranges from electronica to jazz/fusion, but is primarily hard rocking with ranges of intensity.
Bob Moore (ClemofNazareth)
Studio Album, released in 1979Track Listings
1. Swedish Nights (4:54)
2. Thursday (3:59)
3. Sundance Of The Haute Provence (3:39)
4. Moria (3:52)
5. Enlightment (5:01)
6. Superman (3:56)
7. Another Day Like Superman (8:03)
8. Azimuth (1:27)
9. Between The Rooms (4:22)
Total Time: 39:13
Line-up/Musicians
- Harald Bareth / bass, lead vocals
- Uwe Karpa / acoustic & electric guitars
- Kono Konopik / drums
- Matthias Ulmer / keyboards, vocals
Releases information
CD Music Is Intelligence WMMS 027 (1993) Germany
Внимание! У Вас нет прав для просмотра скрытого текста.