REPOST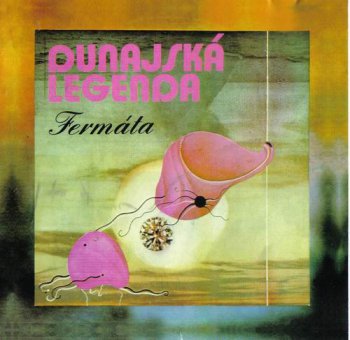 YEAR: 1980
STYLE: Jazz Rock/ Fusion
FORMAT: APE (Image + Log + Cue + Scans + 5% Recovery)
SIZE: 388 Mb
COUNTRY: Czechoslovakia
THE BAND:
Frantisek Griglák / guitars, keyboards, synthesizers, vocals; Tomás Berka / keyboards, synthesizers, vocals; Karol Oláh / drums, percussion; Fedor Freso / bass, vocals
If you can get your hands on any of FERMATA's first four albums don't even hesitate.This is probably the less favoured of the four but man is it ever good.As Sean Trane mentions, the theme running throughout the album is about the legends surrounding the Danube River. "Wikina" is uptempo and jazzy with lots of keyboards.The guitar starts to light it up before 2 1/2 minutes then trades solos with the keyboards. "Chotemir" opens with intricate acoustic guitar then it stops as we get some atmosphere before a minute.Drums after 1 1/2 minutes then what sounds like violin a minute later.It then kicks in with some emotional guitar.So moving.I like the synths too.Orchestration 4 1/2 minutes in then it changes.A nice guitar/drum section ends it. "Witemir" opens with gentle guitar and we get some vocals too.Great sound here,i like the vocals too.It's so soothing and relaxing. "Unzat" opens with keys as the sound builds.The guitar leads 2 minutes in.Nice bass too. "Trebiz" opens with piano before it settles down.Drums and bass come in as keyboards and synths continue.A change after 3 minutes.It's spacey after 4 1/2 minutes then it kicks back in.The drumming is great to end it. "Zilic" has this funky groove to it and vocals too.Cool tune. "Zuemin" starts off quietly but it's fuller a minute in with bass and drums out front.It ends in a spacey manner. "Kocel" sounds so good with those keyboards and guitar melodies to open.Drums come in softly as it builds.The guitar gets aggressive after 1 1/2 minutes and the bass becomes prominant.Synths after 4 minutes. A very enjoyable album that has a few weak spots on the second half, but that's a minor complaint.A solid 4 stars.
http://www.progarchives.com
Track Listing:
1. Perpetuum III (from Fermáta self-titled debut album) (11:47)
2. Wlkina
3. Chotemir
4. Witemir
5. Unzat
6. Trebiz
7. Zilic
8. Zuemin
9.Kocel'
10. Program Začína (bonus track) (3:12)
11. Tvár (bonus track) (3:31)
Внимание! У Вас нет прав для просмотра скрытого текста.