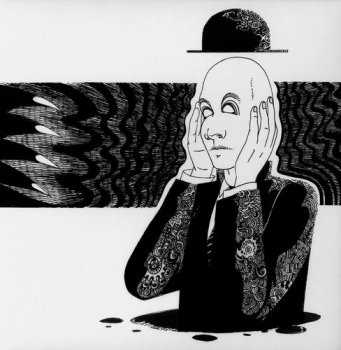 YEAR: 1976
STYLE: Rock Progressivo Italiano
FORMAT: FLAC (Image + Log + Cue + Scans + 5% Recovery)
SIZE: 262 Mb
COUNTRY: Italy
THE BAND:
Mauro Paoluzzi (composition, guitar, drums, vocals); Luciana Paoluzzi (vocals); Gianfranco Pinto (keyboards, vocals); Alessandro "Billy" Zanelli (bass, vocals); Claudio Pascoli (sax, flute)
This was one of those legends of Italian prog so rare that some didn't believe it really existed. Apparently after the album was cut the label changed their mind and decided to stop some of their "progressive" projects in their tracks. So the original vinyl run was limited to a few boxes of promos with plain white covers and the legend grew. Now that BTF/AMS have reissued this on CD many Italian prog fans are getting their first chance to hear this eclectic title. Pangea was really just a name given to the solo project of Mauro Paoluzzi, a producer, composer, and multi-instrumentalist. He produced, among others, the two albums by the jazz-rock outfit Madrugada. Their bassist Billi Zanelli and keyboardist Gianfranco Pinto returned the favor here by joining this "band" called Pangea. They are joined by Paoluzzi's wife Luciana on vocals and Claudio Pascoli on saxophone. Released (or nearly so, as noted) in 1976 "Invasori" is one strange fish. The album is a sound painting, an avant-garde work covering a variety of styles. It veers from just a bit of symphonic to pop to jazz-rock to ambient to space, with a curiosity and desire to try a bit of everything. It is precisely the goal of wide-open experimentation that makes "Invasori" so difficult to categorize and yet so thrilling to discover.

The music of "Invasori" is a real treat. Often it sounds like a lost Pink Floyd album with the drifting vibes of the soundtrack albums "Obscured by Clouds" or "More." But it doesn't stop there, it certainly mixes in the Italian avant-garde that brought to my mind artists like Paese dei Balocchi, Pierrot Lunaire, Saint Just, Nascita della sfera, Gruppo Alternativa, and Opus Avantra. If you like the strange stuff, you need to hear this one. "Invasori" is a concept album that moves along with the pacing and feel of a Floyd album, slow, with Mason-like drumming in some places, and full blown jazzy-rock excursions in the next. There are quiet, reflective keyboard driven sections and there are some very nicely played electric lead solos in the rocking sections. It begins with a quiet piece of synth and wordless female vocal that sounds a lot like "Shine On You Crazy Diamond." Other tracks get funky with the warm saxophone or even folk-oriented with a jugband bass guitar plucking along to canzione. "Corallo" features spacy backgrounds with raga beat behind a mix of Oldfield-like flute, acoustic guitar, and chant vocals-very soothing and dreamy. The 11-minute centerpiece "Xanadu" is a shimmering sea of repeating piano and guitar notes, gentle vocals, and faraway thoughts. These long, dreamy open spaces are shattered by the likes of "Piccolo re" with its baroque Circus-day psych hallucinations before the short closer ties up the loose ends. This is why I describe the album as a "sound painting," it evolves more like the passing thoughts of a long daydream than sounding like a typical rock album. The CD's new label describes their unearthed treasure like this: "Invasori is a beautiful and haunting progressive concept album divided in two suites in the classic italian style, with italian vocals, various moods and an overall spacey atmosphere with hints of Pink Floyd." [BTF website] It is an album that may strike you as wildly unfocused at first but with every play this music grows on me to the point where it may well become one of those unique, beyond-the-meadow treats. Like Paese dei Balocchi it is music for people who prefer the somewhat ambiguous to the obvious. Who prefer to walk than to ride. Who enjoy watching summer days slip away.

The BTF/AMS release is a gatefold mini-lp sleeve edition with a brief bio in the booklet. The sound quality is very good for 1976 (the artist was an experienced producer) and the artwork created for the release well captures the music's mystery while not falling into the schlock zone that some of today's recorded art resides in. It is bizarre imagery but retains the intimacy of truly quality album art.
http://www.progarchives.com
Track Listing:
1. Invasori
2. Monj
3. Miraggi
4. Corallo
5. Naufragio
6. Arcipelago
7. Bazaar
8. Xanadu
9. Piccolo re
10. Njama
The Band:
Mauro Paoluzzi (composition, guitar, drums, vocals)
Luciana Paoluzzi (vocals)
Gianfranco Pinto (keyboards, vocals)
Alessandro "Billy" Zanelli (bass, vocals)
Claudio Pascoli (sax, flute)
Внимание! У Вас нет прав для просмотра скрытого текста.