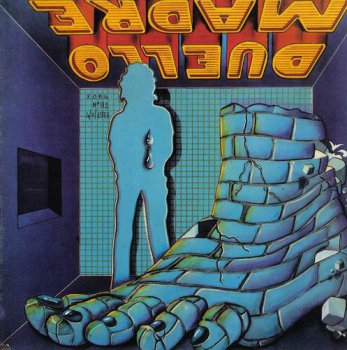 YEAR: 1973
STYLE: Progressive Rock/ Jazz Rock
FORMAT: FLAC (Image + Log + Cue + Scans + 5% Recovery)
SIZE: 202 Mb
COUNTRY: Italy
THE BAND:
Pippo Trentin / saxophone, flute; Marco Zoccheddu / electric & acoustic guitar; Bob Callero / bass
- Dede Lo Previte / drums
Then why dont you check out this excellent record! Maybe when we hear the sentence "Italian Jazz Rock or Fusion band" , Area, Perigeo or Deus ex Machina could be the bands that we think about, those are excellents and better known bands, but let me tell you that in the early 70´s a one-record band (sadly one of that huge amount of bands that released a record and then dissappeared) called DUELLO MADRE, released one self-titled album, showing us that Italian Jazz was alive and very prolific in that era.

What we can listen in this album, is besides the always classic sound of RPI movement (only in some moments) a strong influence of Europeand bands, mostly British, with a superb sax playing and that magnific and sublime bass sound of Bob Callero, yes, the same who played for Il Volo, so let me point out that Duello Madre was a band whose members played in other Italian bands of the 70´s, so we cannot doubt about the quality of the musicians.

This album features 5 songs and more than 35 minutes of excellent music, since the very first song we can notice the direction of the album, their influences and the jazz oriented style, believe me that i was caught by the sound of the bass, the guitar is also delicious. "Momento" is a very nice song, with greta bass, and suddenly a change to a softer style with acoustic guitars and flute, to then finishing with a faster passage. In the next song we will listen a repetitive bass sound during the whole song, but that doesnt matter actually that is what caught me at first, this song has a kind of free jazz experimentation and is pretty good, not the best for sure. "madre2 is the longest and the best song here, i could say the mother song, in some moments reminding me to Mahavishnu and in others a Canterburesque sound, a slow song but very progressive, drums are great and the sax superb, with some nice guitar riifs. The last song is named "Duello" and as well as the other ones, is excellent and the bass very hypnotizing.

This album is not superb, though believe me it is excellent, another obscure gem from the 70´s scene in Italy, fans of Area or Perigeo should check this band.

Since i like it and enjoy it so much, i will give it 4 stars, it would be an excellent addition to any prog fan.
http://www.progarchives.com

Track Listing:
1. Aquile Blu (6:59)
2. Momento (5:30)
3. Otto (6:00)
4. Madre (10:30)
5. Duello (7:59)
The Band:
- Pippo Trentin / saxophone, flute
- Marco Zoccheddu / electric & acoustic guitar
- Bob Callero / bass
- Dede Lo Previte / drums
Guest Musicians
- Mario Lamberti / percussion
- Gian Piero Reverberi / keyboard
Внимание! У Вас нет прав для просмотра скрытого текста.