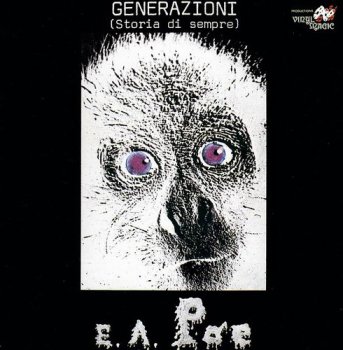 YEAR: 1974
STYLE: Rock Progressivo Italiano
FORMAT: FLAC (Image + Cue + Log + Scans + 5% Recovery)
SIZE: 208 Mb
COUNTRY: Italy
THE BAND:
Giorgio Foti / keyboards, vocals; Beppe Ronco / guitar, mandolin; Lello Foti / drums; Marco Maggi / bass
Edgar Allan Poe biography
E.A. POE is another Italian group that tried to surf the progressive rock tide storming Italy in the mid 70's. In 1974, E.A. POE issued a single LP release named "Generazioni (Storie di Sempre)", re-issued on CD in 1991. The CD leaflet does not provide any information on the group which seems to be a four piece ensemble, drum, guitar, keyboard and bass. Wind instruments are also surfacing on some song. The record fails on musical consistency and coherence, aimless pointing to different musical genres without setting on a specific mood. Some of their songs may effortlessly be mistaken as belonging to the first BANCO DEL MUTUO SOCCORSO's records. Others have a more FLOYDesque psychedelic vein or spot a symphonic mood as PFM "Storia di un Minuto". There is some political background appearing in the text of their songs, especially in the "Intro" song declaration. The male voice is weak and cannot modulate decently.

E.A. POE should be considered a minor Italian group who produced non-seminal music. However, it's still worth the purchase if you like to make your Italian prog rock collection complete.



I heard this album described as a darker sounding LE ORME,which made me smile because i thought of LE ORME a couple of times during the spacey sections on this disc. I think that's why i like this record so much, because there is this dark,melancholic mood throughout. "Prologo" opens with piano and spoken words.A dark atmosphere then comes in, and then it turns jazzy before 2 minutes.I just like to listen carefully to the intricate sounds that come and go during this section.Great track. "Considerazioni" is dark and spacey to open as we get a bass line.Organ after 1 1/2 minutes changes that mood.The tempo picks up.Guitar 2 1/2 minutes in makes some brief noise.It's dark again as bass and piano lead the way.It's building as drums and organ come in.Nice.Guitar is back! Vocals 3 1/2 minutes in.Guitar then lays down some raw melodies.Another calm with bass,but it builds again 5 minutes in. "Per Un Anima" features acoustic guitar and fragile vocals throughout with some synths 1 1/2 minutes in.Good tune. "Alla Ricerda Di Una Dimensione" features some killer organ runs.Reserved vocals before 1 1/2 minutes with spacey organ.The next couple of minutes are great.Spacey 4 minutes in before it kicks back in to end it. "Ad Un Vecchio" opens with synths,but piano and drums then lead the way.Bass and some faint guitar can be heard.Vocals 2 1/2 minutes in.Organ comes in.Nice bass.It's darker after 4 minutes and later before 6 minutes.Excellent song. "La Ballata Del Cane Infelice" features acoustic guitars with gentle vocals before a minute.This continues throughout with the odd tempo shift. "Generizioni" opens with synths before whispered vocals come in. Passionate vocals with drums are uplifting 2 1/2 minutes in.Organ comes and goes.Emotional vocals 3 1/2 minutes followed by a bombastic sound.Nice.What a moving track to end it.Great drumming and synth work 4 1/2 minutes in. I highly recommend this record,and it really is an excellent addition to your Italian collection.
http://www.progarchives.com
Track Listing:
1. Prologo
2. Considerazioni
3. Per un'anima
4. Alla ricerca.....
5. Ad un vecchio
6. La ballata del cane
7. Generazioni
- Giorgio Foti / keyboards, vocals
- Beppe Ronco / guitar, mandolin
- Lello Foti / drums
+ Marco Maggi / bass
Внимание! У Вас нет прав для просмотра скрытого текста.