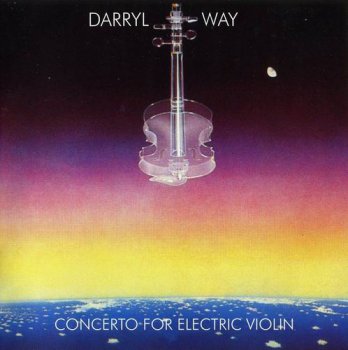 YEAR: 1978
STYLE: Progressive Rock
FORMAT: FLAC (Image + Log + Cue + Scans + 5% Recovery)
SIZE: 206 Mb
COUNTRY: UK
THE BAND:
Darryl Way - Violin; Francis Monkman - Synthesizers; Ian Mosley - Drums, Percussion; Bruno Schrecker - Cello
During his tenure with prog rockers Curved Air, Darryl Way clearly harboured a passion for classical music as revealed on their 1975 concert recording Live. A regular feature (and highlight) of the bands set was a 10 minute piece entitled Vivaldi which was Darryl's interpretation of The Four Seasons concertos. A two year stint with Darryl Way's Wolf in the early 70's focused on his jazz-rock leanings and it wasn't until a debut solo album released in October 1978 that his classical ambitions were fully realised. Following the reissue of the three Wolf albums in 2008, Esoteric Recordings turn their attention once again to Way's back catalogue with this re-mastered version of Concerto For Electric Violin.

Having studied at the Royal College of Music in the 60's, Way obviously had the necessary grounding for a violin concerto and was joined for the recording by fellow RCM graduate and Curved Air colleague Francis Monkman. Keyboardist Monkman had his own classical aspirations having formed Sky with guitarist John Williams that very same year. Allowing Way to concentrate on solo violin, Monkman provides all the orchestral backing himself using the (then) latest technology which includes three ARP synthesisers, the odyssey, pro-soloist and string ensemble. The only other musicians present are cellist Bruno Schrecker and drummer Ian Mosley, a former colleague of Way's from the Wolf days who would go on to join Marillion some 6 years later.

The First Movement is probably the most groundbreaking of the entire concerto, combining the stately grandeur of Brahms and Bach with the rhythmic intensity of contemporary artists like Philip Glass and even the occasional dissonance of Schoenberg. Way gives a stunning central performance with soaring violin flights underpinned by Monkman's sometimes moody keyboard textures. In contrast the Second Movement paints a pastoral scene with a romantic theme that becomes increasingly lusher as the piece progresses. Surprisingly given its lyricism Way's opening solo is fully improvised and is based on the tune McDonald's Lament from Wolf's debut Canis Lupus album. Around the halfway mark the violin becomes more forceful before quickly returning to a more graceful tone with suitably rhapsodic synth embellishments.

Whilst classical concertos are usually in three movements, here Way takes a relatively short but lively diversion with his Scherzo. The tone is very light hearted incorporating plucked strings and Way's energetic playing bringing to mind the great Joshua Bell. The Fourth Movement is the closest to rock in the traditional sense thanks to the strident arrangement and a driving rhythm courtesy of Mosley. Here Way's aggressive technique is reminiscent of Kansas' David Ragsdale although he finds time for a bittersweet interlude that benefits from some very sensitive bowing. Following Way's improvised cadenza, Moseley returns to propel the piece to the finish line ending with a suitably dramatic flourish.

Whilst budgetary constraints dictated the albums reliance on synthesised orchestrations, when the concerto premiered on the prestigious UK arts programme The South Bank Show in 1978, Way was joined by the equally prestigious Royal Philharmonic Orchestra. He also performed the work live on German television with the Bavarian Radio Symphony Orchestra and during the 80's in Leeds with the Northern Sinfonia which was broadcast live on BBC radio.

There's no doubt that the integration of the electric violin intro a classical work was very original in 1978 and even now when entering the title into a search engine the only match to be found is Way's album. Although a number of renowned prog artists including Jon Lord, Keith Emerson, Tony Banks and Steve Hackett have produced their own concertos or suites, tonally there are few similarities so comparisons here would be superficial. It's certainly a unique concept with a virtuoso performance from Way supported by authentic orchestrations from Monkman replicating strings, brass, woodwind and percussion with convincing results. My final rating could have been much higher but ultimately it's tempered by the attraction I feel this album will hold for the average prog listener.
http://www.dprp.net
Track Listing:
1. 1st Movement: Allegro 9:27
2. 2nd Movement: Slow 10:44
3. 3rd Movement: Scherzo 3:47
4. 4th Movement: Finale (Gigue) 11:31
The Band:
Darryl Way - Violin
Francis Monkman - Synthesizers
Ian Mosley - Drums, Percussion
Bruno Schrecker - Cello
Внимание! У Вас нет прав для просмотра скрытого текста.