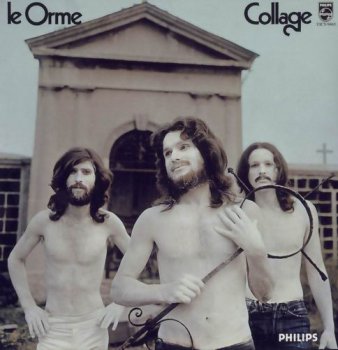 YEAR: 1971
STYLE: Rock Progressivo Italiano
FORMAT: APE (Image + Log + Cue + Scans + 5% Recovery)
SIZE: 232 Mb
COUNTRY: Italy
THE BAND:
Aldo Tagliapietra - vocals, bass, guitar; Toni Pagliuca - keyboards; Michi Dei Rossi - drums
LE ORME is a prime example of a band drastically changing their sound, in this case for the better. Back in 1969 they released their first album, "Ad Gloriam", which finds the band exploring pop/psychedelia. Realizing that style of music was quickly going out of fashion, thanks to the rise of prog rock, they decided to go prog, and the results is "Collage", which is the first in a series of albums that would serve them well for their next three releases. They moved to Philips from a label called Car Juke Box, and reduced their lineup to a three piece with Claudio Galieti and Nino Smeraldi now out of the picture, leaving the band with bassist/guitarist/vocalist Aldo Tagliapietra, keyboardist Toni Pagliuca, and drummer Michi dei Rossi.

In my opinion, I felt "Collage" is a rather underrated album. The music is less polished (has that live "in the studio" feel) than their following albums and there are some extended organ solos and odd experiments that might have turned off those who enjoyed "Uomo di Pezza" and "Felona e Sorona". Pagliuca's keyboard setup here is just Hammond organ and clavinet, although I suspect he used a synthesizer here (album makes no mention of a synth). The title track is an instrumental cut that reminds me of The NICE, with some classical themes played on a clavinet. "Cemento Armato" consists of a lenghty organ solo. The organ here is heavily fuzzed and oddly for a LE ORME album, I can't help but be reminded of Jon Lord or Vincent Crane here. I never imagined LE ORME sounding like this! Even amongst the romantic balladry of "Uomo di Pezza", the band's more aggressive side shows up occasionally, but nothing like this album! I was put in even further shock with this experiment called "Evasione Totale". I am almost reminded of many of the Krautrock groups of the time. It's full of spacy organ here, experiments with echo effects, some jazzy passages, and I love how Aldo Tagliapietra gives us some nice bass work to go with it! Hard to believe what they were doing just two years ago ("Ad Gloriam"). There's a psychedelic experiment called "Immagini", dominated by organ, and complete with Tagliapietra's voice electronically modified, as common with late '60s psychedelia. But one thing for sure is this is something you won't mistake for "Ad Gloriam". "Collage" was the album that helped launch the Italian prog scene, and for me, a truly unjustly underrated album.
http://www.progarchives.com
Track Listing:
1. Collage (4:42)
2. Era inverno (5:00)
3. Cemento armato (8:08)
4. Sguardo verso il cielo (4:12)
5. Evasione totale (6:56)
6. Immagini (2:58)
7. Morte di un fiore (3:00
The Band:
Aldo Tagliapietra - vocals, bass, guitar
Toni Pagliuca - keyboards
Michi Dei Rossi - drums
Внимание! У Вас нет прав для просмотра скрытого текста.