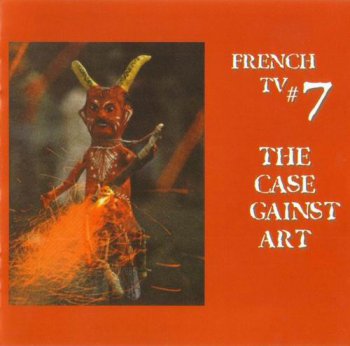 YEAR: 2002
STYLE: Progressive Rock/ RIO
FORMAT: FLAC (Image + Log + Cue + Scans + 5% Recovery)
SIZE: 318 Mb
COUNTRY: USA
THE BAND:
Mike Sary / bass; Warren Dale / keyboards, sax, recorder, clarinets; Chris Vincent / drums; Chris Smith / guitar, violin, banjo, mandolin
Now THIS is what progressive rock is about! The ability to take a number of diverse musical influences and make something uniquely your own and actually create something new that genuinely progresses!

Under the baton of bassist Mike Sary, French TV since 1983 has created uncompromising yet engaging and dare I say even FUN progressive music. Taking its cues from far flung sources as Canterbury, Zappa, Stravinsky, RIO, Carl Stalling/Raymond Scott cartoon music, circus music and other things too numerous to mention, a curious, restless seething musical brew pours forth that simultaneously goes for the cerebral cortex and the funny bone.

"That Thing On The Wall" is a killer opening track that is all over the map, and from there, the listening gets no easier but man it's so much fun to hang onto the back of this musical roller-coaster. "Partly The State" has a brief vocal section with Cliff Fortney, who played with Happy The Man" in their earlier stages. All throughout, no one instrument dominates, but rather, the band serves up a well-balanced colorful sonic palette full of surprises. Not one weak track on here at all, and dare I say, well worth buying.

Plus, you'll also enjoy the hilaious liner notes by one Mac Belieu (who has the distinction of being the proud recipient of a brochure from the Berklee College of Music).
http://www.progarchives.com
Track Listing:
1. That Thing on the Wall (8:53)
2. Viable Tissue Matter (11:45)
3. Partly the State (10:30)
4. One Humiliating Incident After Another (9:18)
5. Under the Big 'W' (14:18)
The Band:
- Mike Sary / bass
- Warren Dale / keyboards, sax, recorder, clarinets
- Chris Vincent / drums
- Chris Smith / guitar, violin, banjo, mandolin
With:
- Dean Zigoris / guitar (2,5)
- Greg Acker / sax, flute (2,4,5)
- Cathy Moller / violin (2,5)
- Cliff Fortney / vocals, flute, recorder (3)
- Shawn Persinger / acoustic guitar (3)
- Kirk Davis / percussion (3)
- Karen Hyer / soprano (3)
- Stephen Dale / trumpet, euphonium (4)
- Pam Thompson / tuba (5)
Внимание! У Вас нет прав для просмотра скрытого текста.