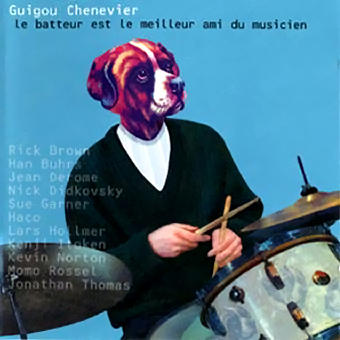 Исполнитель:
Guigou Chenevier
Альбом:
Le Batteur Est LeMeilleur Ami Du Musicien
Год выхода:
2003
Страна:
France
Колличество дорожек:
12
Общее время звучания:
39:52 min
Жанр:
RIO / Avant-Prog / Avant-Garde
Формат:
Lossless / APE (log + cue)
Размер файла:
212 mb
Залит на:
Narod.ru
Guigou Chenevier biography:
Guigou Chenevier is a French drummer / percussionist of renown in avant-garde music, notably for being one of Etron Fou Leloublan's former members and for having played an important role in the R.I.O. creation and development, as did bands like Henry Cow, Samla Mammas Manna, Stormy Six and Univers Zero. Recognized as one of the most important figures in avant-rock, Chenevier has participated in many projects like Encore + Grande (with Guy Sapin and Hans Buhrs), Volapuk, Etron Fou Leloublan (as I said already), Les Batteries, Octavo (with Sapin again), Guigou Chenevier & Les Figures and with Sophie Jausserand (an album named A l'abris des micro-climats). Apart from being a reputed musician, Guigou Chenevier founded the collective Dupon et ses Fantomes in 1976 with Etron Fou Leloublan, Camizole, Mozaik, Grand Gouia and Nouvel Asile Culturel. Dupon was a kind of French precursor of what would later be R.I.O.
As a solo artist, Chenevier released three albums, often with long-time collaborators of his as guest musicians. All his albums are particular, unique. To justify what I wrote, I will give examples. His album Arthur et les Robots is a children album with some of EFL's members. In Le batteur est le meilleur ami du musicien, he sent recorded drums parts to multiple great musicians such as Jean Derome, Guy Sapin, Hans Buhrs, Lars Hollmer and Nick Didkovsky and asked them to make a musical arrangement on the tracks. In Les rumeurs de la ville, which is in my opinion excellent (and often considered as a continuation of Volapuk) used recorded amateurs tracks and music composed by Chenevier and played by professional musicians (members of Volapuk).
Guigou Chenevier is a progressive artist in his way of creating, in his originality and in his important collaboration to the French avant-garde scene. He is capable of doing a wide range of music, and impresses with his unique works.
Biography written by Gabriel Rivest (Tsevir Leirbag)

EAC .log
Tracks:
1. A l'horzon que du Bleu. 3:27
2. Too Good Too. 2:48
3. The First Day. 4:41
4. Ca s'est Passe au Nunavut. 2:57
5. Eggs, Salt, Vanilla. 3:40
6. Odd or Even. 2:29
7. Un jour, la Nuit. 1:26
8. Pluie de Cendres. 3:20
9. Moi, un Oeil, Roi des Aveugles (Ik, eenog, koning onder blinden). 3:36
10. Le retour du Percuppsala. 3:47
11. Palimpsest. 3:23
12. Drones and Drolls. 4:24
Musicians:
Shirley Hoffman: Tuba, voice
Momo Rossel: Accordion, violin, mandolin
Rick Brown: keyboards, sequencer, percussions
Haco: Vocals, electronics
Jean Derome: Various instruments, objects
Sue Garner: Bass, guitar, voice
Kenji Itoken: Cowbells, toy glockenspiel, xylophone, melodica
Nick Didkovsky: Guitar, bass
Kevin Norton: Vibraphone, marimba, cymbals, triangles
Han Buhrs: Voices, effects
Lars Hollmer: Accordion, keyboards, piano, melodica
Jonathan Thomas: Casio, casseroles
Guigou Chenevier: Drums, percussions
Download / Скачать:
Внимание! У Вас нет прав для просмотра скрытого текста.