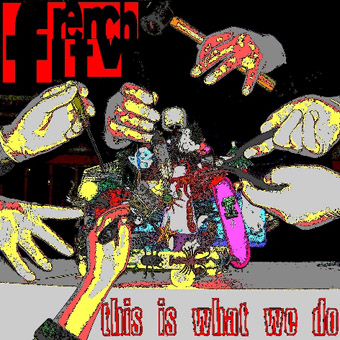 Исполнитель:
French TV
Альбом:
This Is What We Do?
Год выхода:
2006
Страна:
USA
Колличество дорожек:
5
Общее время звучания:
51:42 min
Жанр:
RIO / Avant-Prog
Формат:
Lossless / APE (log + cue)
Размер файла:
190 mb + 121 mb
Залит на:
Narod.ru
... Seeing as French TV is one of the most original and prolific American bands, it is hard to account for their lack of recognition, both in America and everywhere else. Mike Sary even gave up looking for a label to sign them and instead opted for releasing their albums on his own label.
The album starts with a song with a typically (for French TV) abstract title with music that fits the abstract moniker perfectly. There are many changes of pace and different moods, from meditative to furious and quirky. This piece exhibits everything that's great about French TV. They are able to incorporate so many emotions and styles into just one composition. The next piece fits that bill as well. Ska Face starts with a ska beat, but it soon transforms into a typical French TV frenzy. The album continues with My Little Cicada, where we hear some eerie Crimson-like mellotron passages and Henry Cow reed and wind work. The transitions between these parts is again effortless and later on in the composition we hear some fine violin playing by Chris Smith and some amazing Hammond and guitar parts as well. Look at the Bears reminds me in parts of Happy the Man, in other parts of ELP or Henry Cow. This is another composition with great energy and it's no wonder that it's one of their concert favourites. For the end of the album, they saved another corker with an unusual title. It starts off as a great fusion workout, then goes through several steadier moods, but always returns to the original level of enthusiasm.
French TV draw from so many musical wells that their music sometimes seems like a collage of different genres and influences. However, this collage seems completely normal and the music flows without any disruptions. Usually, bands find it difficult to master so many genres and switch between them, but with French TV it seems easy. Sometimes, you may hear straight-out jazz-rock, sometimes ska, sometimes symphonic rock in the ELP style, on occasion you may even hear Eastern and Mexican music influences, while at other times they sound very experimental. I hear many influences from other musicians in their music - Zappa, Hatfield and the North, Henry Cow, Samla Mammas Manna, Happy the Man, Van der Graaf Generator... - but I think that they mainly strive to create music with its own character.
The playing and the sound on the album is beyond reproach. The band leader, Mike Sary, is a monster bass player. He may sometimes get lost in the sea of keyboards and reeds and winds, but when you do hear him, he is always precise and intriguing. Warren Dale is perhaps the most noticeable musician here, with his array of keyboards and reeds and winds. He knows how to create atmospheres and also play lightning fast on the synth and Hammond. Chris Smith is a sublime guitarist who continues in the Robert Fripp tradition of reserved yet totally controlled playing. He also contributes some hugely important violin parts. The final piece of the puzzle is drummer Jeff Gard, who is very solid at what he does. There are also some guest musicians on the album, most notably Paolo Botta, who also plays with French TV when they tour Europe.
I think it's impossible for French TV to record a bad album. They simply have such a great feel for balancing the good melodies and the experimental passages. It is hard to choose just one favourite French TV album, but if I was forced into it, I would have to say that This Is What We Do is my personal favourite. I don't really know why, it just seems that they got all the ingredients right for this one. French TV just keep getting better, so I eagerly await their next release.

EAC /log
Tracks:
1. Colorless Green Ideas Sleep Furiously. 10:19
2. Ska Face. 8:24
3. My Little Cicada. 11:48
4. Look at the Bears! Look at the Bears! Look at the Bears! 8:10
5. Theme from ESPN X-Tream Cobalt Blue 4"x4"Bathroom Tile Installation Games. 13:01

Musicians:
Mike Sary: bass, voice
Warren Dale: keyboards, winds, reeds, mallets
Chris Smith: guitars, violins, exotic strings
Jeff Gard: drums

With:
Steven Dale: trumpet (1 & 2)
Pam Thompson: trombone (2)
Paolo Botta: keyboards (3)
Download / Скачать:
Внимание! У Вас нет прав для просмотра скрытого текста.
Внимание! У Вас нет прав для просмотра скрытого текста.