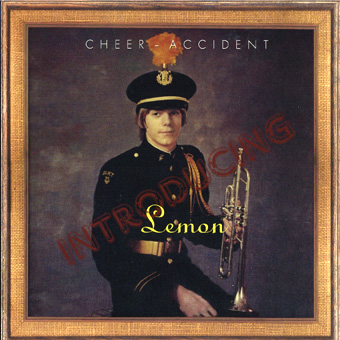 Исполнитель:
Cheer-Accident
Альбом:
Introducing Lemon
Год выхода:
2003
Страна:
USA
Колличество дорожек:
9
Общее время звучания:
74:35 min
Жанр:
RIO / Avant-Prog
Формат:
Lossless / FLAC (log + cue + covers)
Размер файла:
252 mb + 231 mb
Залит на:
Narod.ru
Review Album:
Cheer Accident are a band who seem to have no desire to be anything but what they are in a single moment of time. In 2009, they released Fear Draws Misfortune, on Cuneiform, bringing them in front of the eyes (and ears) of a myriad of pro listeners. But the band had been around for over twenty years prior to that, and released an impressive array of music in the meantime.
Introducing Lemon is a surprisingly interesting album. Musically, it has very little to do with what the band was doing on fear draws misfortune. This I perceive as a refreshing fact and an open invitation to dive into the rest of their work. A band who is willing to reinvent themselves still after so many years is a band with a true creative spirit, and that is something that Really appeals to me.
Where fear draws misfortune was full of hooks, catchy moments, and an amazing eclectic variety, Introducing Lemon finds the band playing music that is driven more by the guitars and rather unconventional singing. The album is also typified by a sense of space, which yields several more drawn out passages. When comparing the two albums, this can lead to the impression that lemon is less focussed. The music is not as easy to get into, and despite the fact that it may seem repetitive at times, is actually much more challenging than anything on Fear...
There are a variety of sounds on this album, but what we have the most of is oft-repeated themes that slowly develop into new themes, by the addition of a new element, the fading out of an old, or the altering of an existing. There are also many cases where the band will suddenly switch gears without any warning.
The album is over seventy minutes long, and with two tracks over twenty minutes, can be quite a tiring experience due to the sheer length of this music. Without any frame of reference for the sounds I was hearing, my brain was often quite taxed by the time the music came to an end. Yet, despite the fact that there was often a gap between listens, I found myself returning to this one time and again, and each time enjoying it more than the last. That on its own is a considerable feat. Over time, I find myself enjoying this album even more than Fear, despite the fact that Fear is much more accessible.
Highlights: I love the unique vocals on this one, while at times they can sound somewhat normal (part of while reminds me of the Barenaked Ladies), it's the unique almost tortured voice like on Camp o Physique and Track 29 that really stands out. There are also some great vocals in The Day After I Never Met You.
Camp o Physique is on it's own a rather amusing track, built on top of a simple bass riff and what sounds to me like one of the preprogrammed beats on a Casio Keyboard. Despite that, this song leaves no doubt as to the creative power of the band. It simply must be heard to be understood.
The Day after I Never Met You has the most catchy part of the album in the intro.
Lastly, I must mention the amazing Find. The Autumn Wind Is A Pirate might seem an obvious selection as the better 20 minute piece, with it's constantly shifting mood, but I actually find I enjoy the closing track more. Even the 8 minute section where the band oh so slowly and carefully develops a simple theme. It is as if they are saying, we have all the time we need, what's the rush? What we have to say is important enough to say the right way. So just chill and enjoy.
And, in the end, that's what this album is about. Once it clicks, that's what you'll do - you'll chill and enjoy.
Downsides: requires multiple listens to enjoy fully, and it is a long album.
Final words: unless you are convinced you will love this album, try Fear Draws Misfortune first, so when you listen to this album, you will understand that it is worth the repeated listens. But once it reaches the point where the album makes sense, it will pay off immensely.

EAC /log
Tracks:
1. The Autumn Wind Is a Pirate. 22:37
2. Camp o' Physique. 4:06
3. Zervas. 3:36
4. Track 29. 6:59
5. The Day After I Never Met You. 2:44
6. (The) Men's Wide Open. 3:03
7. Smile. 5:02
8. While. 3:56
9. Find. 22:32

Musicians:
Thymme Jones: Drums, vocals, trumpet, moog, casio, harmonica
Jeff Libersher: Guitars
Dylan Posa: Bass, guitar, Casio, microcassette, air organ
Jamie Fillmore: Guitars
Download / Скачать:
Внимание! У Вас нет прав для просмотра скрытого текста.
Внимание! У Вас нет прав для просмотра скрытого текста.