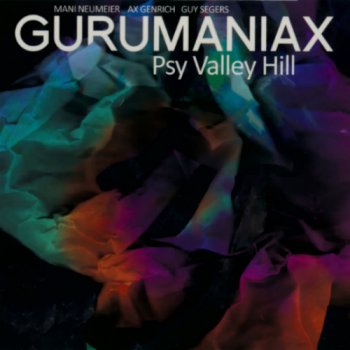 Artist: Gurumaniax
Album: Psy Valley Hill
Year: 2010
Label: bureau b bb054
Country: Germany
Style: Progressive rock
Genre: Krautrock, progressive psychedelic, space rock, avantgarde.
Format: ape (image) with cue, EAC log, md5, audiochecker log & full artcover
Size: 295 Mb (4 % recovery)
Source: tracker site
Gurumaniax is a new cooperation of Ax Genrich and Mani Neumeier. Both were Guru Guru founding members in the late 1960s. Genrich left in 1974 to take other steps and, when nobody ever expected something like a reunion anymore, after 30 years they came together again in 2004 to form the new improv trio Psychedelic Monsterjam featuring Dave Schmidt aka Sula Bassana - with the result of exciting gigs and two live albums. Probably it was the death of the other early Guru Guru member Uli Trepte last year which involuntarily forced this new collaboration. And yes, indeed one album track is dedicated to him. Bassist Guy Segers, founding member of Univers Zero, is aboard this time in order to produce some new studio output.They came together due to some successful jamming with Makoto Kawabata (Acid Mothers Temple) and David Allen (Gong) at the Zappanale Festival in Germany one year before.

'Psy Valley Hill' consists of excellent space jams, in some way reaching for the old spirit with a reasonable krautrock/avantgarde touch. Mani Neumeier opens the first dynamic track Drumoroto with his typical tribal drive where Genrich later comes in with a blend of heavy riffing, cosmic and soloing guitars - Guy Segers finally adds a furious signature too. This fades into the long track Spaceship Memory - quasi in memorial of the last song taken from the second Guru Guru album 'Hinten'. And indeed, including hallucinatory meandering parts, this sounds very reminiscent, however even better, provided with more trickiness and improved recording quality - in any case a masterful prototype of space rock.
Obviously coming as an excerpt of a longer jam the grooving Telefonladies is underlaid with multilingual telephone call announcements where Ghost Of Odin opens the door for more unique krautrocked impressions, for example a mysterious halting rhythm coupled with an ethno world component. Voodoo Touch on the other hand shows a bluesy resp. jazzy beat provided with multiple tricky guitar layers. And then Electrosaurus is made of some industrial avantgarde elements, significant for Neumeier's collaboration with 'Space Explosion' featuring Faust and Cluster members. Without describing every song this hopefully makes it clear that 'Psy Valley Hill' is an entertaining production really.
Maybe GURUMANIAX can be treated as an oldie band if you will, consisting of members high in the 60s. But you can feel a fresh and innovative atmosphere when listening. The reason is the synopsis of experience and never ending joy of playing music which is listenable, but also off the beaten track in some way. I am excited to have the possibility to see them live soon. This stuff is highly recommended to krautrock fans, so much the more to space rock lovers. You won't regret.

Tracks:
1. Drumoroto (7:20)
2. Speceship Memory (13:42)
3. Telefonladies (4:27)
4. Ghost Of Odin (5:11)
5. Voodoo Touch (4:54)
6. Electrosaurus (4:51)
7. Psy Valley Hill (4:51)
8. For Uli T. (6:25)
Total Time: 51:41
Line Up:
Mani Neumeier (Drums) - from Krautrock-Band Guru Guru.
Ax Genrich (Gitarre) - Guru Guru from 1970 to 1975.
Guy Segers (Bass), from Univers Zero.
[center]Links:
Внимание! У Вас нет прав для просмотра скрытого текста.