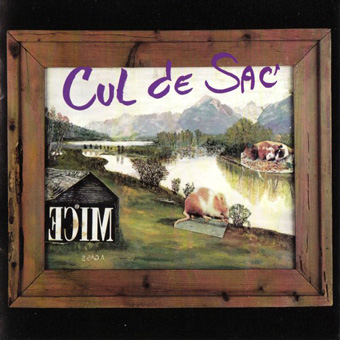 Исполнитель:
Cul De Sac
Альбом:
Ecim
Год выхода:
1991
Страна:
USA
Колличество дорожек:
10
Общее время звучания:
49:38 min
Жанр:
Psychedelic / Post Rock / Avant-Prog
Формат:
Lossless / FLAC (log + cue)
Размер файла:
268 mb
Залит на:
Narod.ru
Review Album:
Ecim is Cul De Sac 's debut album and spells Mice backwards. As evident by listening to later albums CDS has been very influenced by Krautrock and more precisely Can. Right from the first track are those influences felt and they are not yet digested correctly since they are too evident and sometimes over-powering.
Highlights include Death Kit Train , Nico's Dream, Electar and Lauren's Blues with a slighly arabic sounding violin. Also worthy of note is Tim Buckley's Song To The Siren done very correctly (especially in the singing dept.) and more faithful to the original than Robert Plant's version (on his superb Dreamland album). On the downside of things Homononculus suffers from bad sound and there is horrible singing in Invisible Worm. Overall a good debut album holding many promise for the future.
Although I deeply respect Dieter's opinion , I can only advise him to listen to this album again because obviously something slipped by him and this album is much more worthy than his rating!

EAC .log
Tracks:
1. Death Kit Train. 6:51
2. The Moon Scolds the Morning Star. 4:42
3. Stranger at Coney Island. 1:54
4. Homunculus. 7:52
5. The Portland Cement Factory at Monolith, California. 4:11
6. Nico's Dream. 5:45
7. The Invisible Worm. 4:15
8. Song to the Siren. 3:37
9. Electar. 4:57
10. Lauren's Blues. 5:13
Total Time: 49:38
Musicians:
Chris Fujiwara: Bass
Glenn Jones: Guitar
Ed Yazijian: Steel Guitar
Phil Milstein: Percussion
Chris Guttmacher: Percussion, Drums
Robin Amos: Synthesizer, Vocals
Ruthie Dornfeld: Violin
Dredd Foole: Vocals
Download / Скачать:
Внимание! У Вас нет прав для просмотра скрытого текста.