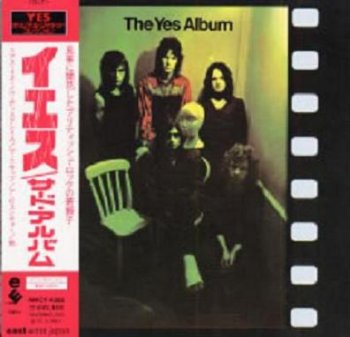 Исполнитель:
Yes
Альбом:
The Yes Album (2001 - Remastered by Isao Kikuchi 24 bit HDCD. Atlantic.)
Производитель диска:
Japan
Жанр:
Progressive Rock / Art Rock
Год:
1971 (2001)
Формат:
FLAC (tracks+.cue)
Битрейт аудио:
lossless
Размер:
343 MB
Залито на:
Depositfiles + Letitbit + Turbobit + Ifolder
(3% восстановление)
Трэклист:
1. Yours Is No Disgrace (Anderson / Squire / Howe / Kaye / Bruford) 9:43
2. The Clap (Howe) 3:16
3. Starship Trooper (music: Anderson / Squire / Howe; lyrics: Anderson / Squire) 9:34
a) Life Seeker (Anderson)
b) Disillusion (Squire)
c) Wurm (Howe)
4. I've Seen All Good People 6:58
a) Your Move (Anderson)
b) All Good People (Squire)
5. A Venture (Anderson) 3:20
6. Perpetual Change (Anderson / Squire) 8:54
Jon Anderson: Vocals, Percussion
Chris Squire: Bass Guitars, Vocals
Steve Howe: Electric & Acoustic Guitars, Vachalia, Vocals
Tony Kaye: Piano, Organ, Moog
Bill Bruford: Drums, Percussion
Colin Goldring: recorders (4a)
Produced by Yes and Eddie Offord at Advision Studios, London, autumn 1970
(2) recorded live at the Lyceum, London
Engineer: Eddie Offord
Co-ordination: Brian Lane
Photography: Phil Franks, Barry Wentzell
Design: Jon Goodchild
(1) was based on a piece written by Anderson and David Foster, before being extensively arranged by the band as a whole.
(2) was initially listed as "The Clap", a title which raises unfortunate connotations and has always upset Howe. The 2003 remaster corrects it to just "Clap". It was recorded live and had been written by Howe to celebrate the birth of one of his children.
The origins of (3) lie in an earlier piece Yes regularly played live when Peter Banks was in the band called "For Everyone" (available on Something's Coming). "For Everyone" had a different beginning section by Anderson, but then moved into "Disillusion". Its form varied, but it could also have a third section, a lengthy jam based on the first section. "Disillusion" was preserved for "Starship Trooper", which echoed the earlier structure of "For Everyone" with "Life Seeker" replacing the first section of "For Everyone" and "Wurm" replacing its looser jam at the end. Although credited only to Squire, Anderson co-wrote the lyrics for "Disillusion", the pair writing alternate lines.
Внимание! У Вас нет прав для просмотра скрытого текста.