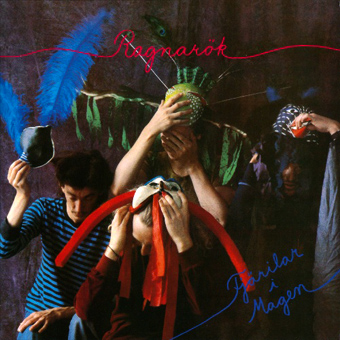 Исполнитель:
Ragnarok
Альбом:
Fjarilar I Magen Tabs
Год выхода:
1979
Страна:
Sweden
Колличество дорожек:
7
Общее время звучания:
37:38 min
Жанр:
Prog Folk / Progressive Rock
Формат:
Lossless / FLAC (log + cue + scans)
Размер файла:
201 mb
Залит на:
Narod.ru
Ragnarök biography
Not to be confused with the New Zealand symphonic prog group from those very same years (that should belong in the site soon) or the Heavy Metal unit from the 80-90's, these Swedes managed four albums on Silence Record and some more (not listed here) in the early 90's. They are a typical example of atmospheric and melancholic prog like only Sweden can produce them. Their first album is a real classic known as a minor classic among progheads and they will participate to another group (KUNG TUNG - much harder) before doing their second album where those influences from that group will leave a mark. It is reputed to be as good as their debut. The later albums listed here remain of a good standard. Among the non-listed albums is "Well"(91) and is rather new age and sometimes industrial - not much to do with the earlier works.
Review by Finnforest (progarchives.com):
Ragnarok's (from Sweden) second album is an interesting mix of the dreaminess of their first album with decidedly more prog-rock elements. I'm not sure about the "folk" prog label though. I think it works very well and is as impressive as their highly regarded debut. The music alternates between the softer beautiful moments like their first album and these rocking melodic moments and does not sound dated at all. Tracks change, build, evolve always to pleasing new places. Playing is top notch and sound is great. Here's a quick summary of the songs:
The short intro Adrenalin begins nothing like their debut, it is a BIG rock sound with chunky guitar. Track two Forsta begins with lovely solo piano and slowly builds with great bass and guitar atmospheres. There is definite playfulness and gorgeous melody. The third track Osten goes back to being quiet and spacey not unlike a mellower Oldfield moment and towards the end sounds a little like an instrumental interlude from The Wall. Next is Var Glad starting again very soft before the band kicks in with luscious guitar leads and some sax, very rocking! Then comes the 8 minute Blamolnfolket starting soft and moody again, floating through acoustic guitar, flute, and bass. Then a distant sax is layered atop. Around the five minute mark enters drums and ominous guitar before the flute comes back to close the song peacefully. Nice track! Next is Brushanespel which features echoed loop guitar with some bongo percussion. The album closes with the longest song Vattenytor at 8.5 minutes. This track summarizes other parts of the album before closing with a minute or two of running water, an interesting way to end.
Everything is very thoughtfully arranged and ambitious. This is a true lost instrumental gem and given that we're talking 1980 here this is all the more impressive. The cover art may be unfortunately silly but the music is truly wonderful. A wide range of moods from colorful to dramatic to playful to brooding. Luscious. Not to be missed. 4.5 stars and I want to round up but am trying to restrain my enthusiasm!!! Very hard in this case.

EAC .log
Tracks:
1. Adrenalin. 1:46
2. Forsta On. 6:22
3. Osten Ar Rod. 5:36
4. Var Glad Var Dag! 4:05
5. Blamolnfolket. 8:22
6. Brushanespel. 2:22
7. Vattenytor. 9:05
Musicians
Peter Bryngelsson: guitars
Peder Nabo: piano, flute, pecussion
Dan Söderqvist: guitar
Thomas Wiegert: drums, percussion
Kjell Karlgren: sax
Download / Скачать:
Внимание! У Вас нет прав для просмотра скрытого текста.