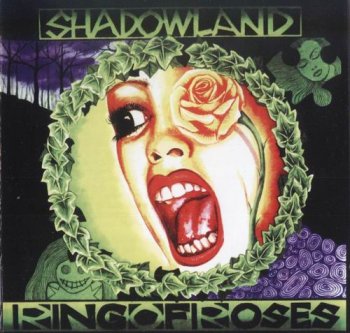 YEAR: 1992
STYLE: Progressive Rock
FORMAT: APE (Image + Log + .Cue + Scans + 5% Recovery)
SIZE: 443 Mb
COUNTRY: UK
THE BAND:
Clive Nolan / keyboards, vocals; Ian Salmon / bass; Karl Groom / guitars; Nick Harradence / drums
Clive Nolan never seems to stop surprising me. He is not only the great keyboards maestro for Pendragon, but has also many side projects. The most sucessful being Arena, but he also had another band in the early 90´s called Shadowland. I was curious about this group since I had never heard about them before, even though it included such prog stars like Nolan himself, guitarrist Karl Groom (Threshold) and future Arena bass player Ian Salmon.

Also Clive is singing lead for the first time on record. The results are surprisingly good, even though it enhance the 80´s feel of the album, since his voice often sound like a cross between Robert Smith (the Cure) and Jim Kerr (Simple Minds). The music is very catchy, sometimes closer to new wave pop-ish, but that happens in only two tracks and even then, always with class. The first track The Whistleblower is quite misleading, being one of those aforemetioned tunes. Jigsaw, the next track, is a 12 minute epic that restore the progressive elements so well done in most Nolan´s works. The rest of the album is really a mix of both progressive music and, in a less extension, new wave pop. Something like if Simple Minds would play progressive music.

This is not a letdown. Once you get over the initial pop icing (and Clive´s voice similarities with both the Cure and SM), what you get is an excellent collection of neo prog songs. Karl Groom´s guitar is also superb and quite different from his style in Threshold. Here he proves he is a versatile musician, playing according to what the music demands and doing a great job.

My rating is 3,5 stars, but I decided to round it to 4, since it is an essential Cd for all neo prog fans. I liked the way he put the 80´s pop flavour into his more progressive songwriting. It was a bold and risky move. Many other prog acts of that era blew their careers trying the same feat. But only Nolan seemed to get away with it so succesfully. No wonder, the guy is a genous! Hail!
http://www.progarchives.com
Track Listing:
01 - Whistleblower
02 - Jigsaw
03 - Scared Of The Dark
04 - Painting By Numbers
05 - Hall Of Mirrors
06 - Kruhulick Syndrome
07 - Ring Of Roses
08 - Dorian Gray
09 - I Judas
The Band:
- Clive Nolan / keyboards, vocals
- Ian Salmon / bass
- Karl Groom / guitars
- Nick Harradence / drums
Внимание! У Вас нет прав для просмотра скрытого текста.