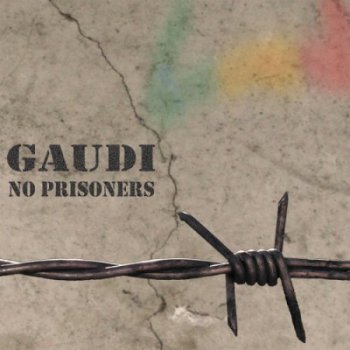 Label: Six Degrees Records
Catalog#: 657036 1163 2
Released: 2010
Genre: Dub, Dubstep, Reggae
Format: FLAC-LOG-CUE
Size: 454 MB
No Prisoners, the latest album by London-based Italian producer Gaudi, is an up-tempo, often-dark blend of reggae, electronica and world music, resulting in a work that is seriously fun and often surprisingly effective. While Gaudi occasionally falters by indulging in the weaker aspects of the genres he pulls from (such as abusing the world music genre by including bagpipes), songs like "There's Enough," "Serious Ting," "No Time," and "Oud We Think We Are" make this album worth a close listen.

The track "There's Enough" begins with a somewhat cheesy plea for us to "say a prayer for the world tonight," but quickly redeems itself by diving into an intensely fun and steady bassline from Roberta Vicinelli that continues through to the end with an optimistic vibrancy that accentuates the darker, politically-fueled vocals of Spearhead's Michael Franti. When Franti calmly cuts in with lyrics like "camera's on every corner/zoomin' in on every home now/ Tokyo to California/ money made from paranoia," one can't help but ponder the strange future humankind faces as technology makes personal privacy ever less attainable. Though the message that "there's enough/ for all of us" is simple, serious, and clear, Gaudi manages to make the track interesting, fresh and—most notably—fun, and does so with apparent ease.

"Serious Ting" and "No Time" both stand out, combining the finely-aged talents of legendary reggae artists with Gaudi's technical production skills, producing songs that are hypnotic as well as biting. "Serious Ting" features the voice of Bunny Wailer giving some sound advice about "staying tuff" over a pretty standard reggae beat that, about three minutes in, is overtaken by a powerful descending dose of electronica, resulting once again in a departure from standard reggae sound into more complex and interesting territory. In "No Time" Dr Israel (of Dub Side of the Moon fame) muses that "nuff people cyaan get no time/ say 'we under pressure cyaan get no time"— a common sentiment, for sure; and yet, Gaudi's signature use of vintage synthesizers give the beats behind the vocals a certain soft-edged heaviness and allows the lyrics to resonate in your head long after the song is over.

Though it is unclear whether or not the act is intentional, Gaudi tends to give many of the tracks on the album an unimpressive start, only to unexpectedly launch into greatness. The best example of this tendency, and perhaps the best song on the album, is the track "Oud We Think We Are?" which contains aspects of all of Gaudi's strengths as an artist—namely, his effective and seamless integration of world instruments (in this case, the oud) as well as a beat that sways and bumps with a tension derived it simultaneously cheerful and menacing nature.

While Gaudi succeeds in creating a beautiful dance track with "Oud We Think We Are?" he falls short on the track "Hotel Caledonia". Though Gaudi's website describes No Prisoners as having "subtle live world instrumentation," bagpipes are obviously anything but subtle, and consequently sound out of place within the album as a whole. Though the attempt is admirable, it simply does not work here, giving the track a garish sound compared to the nuances found on many of No Prisoners' better tracks. Songs like "Bad Boy Bass," "Barracudub," and even "Brainwashed Again" are not especially bad, but they're not particularly memorable, either.

No Prisoners is, at its best, an artfully-concocted blend of music that captures the best aspects of the many genres Gaudi borrows from, making his music danceable, energetic and thoughtful all at once. Though at times it does fail to impress by falling back on repetitive, standard-sounding beats, more often than not Gaudi proves that he is capable of progressing beyond the more down-tempo style of his previous work. No Prisoners is a valuable departure for Gaudi, and it will be interesting to see if he continues to hone his newfound ability to imbue the light with the heavy and the heavy with the light.
Tracklist
:
01.Bad Boy Bass (4:55)
02.There's Enough (feat. Michael Franti and Hardage) (4:30)
03.Serious Ting (5:16)
04.Back To Baia (4:44)
05.Oud We Think We Are (5:11)
06.No Time (feat. Dr. Israel) (5:02)
07.Barracudub (4:18)
08.Hotel Caledonia (5:51)
09.Strictly Goodness (feat. Kenny Knots) (5:54)
10.Brainwashed Again (feat. Elisa and Danny Ladwa) (4:17)
11.No More Blood (6:21)

"Посмотреть отчет EAC"
Внимание! У Вас нет прав для просмотра скрытого текста.