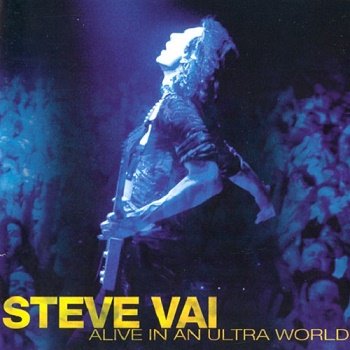 Artist:
Steve Vai
Title Of Album:
Alive In An Ultra World
Release Date:
2001
Location:
USA
Label:
Epic / Sony Music (EPC 501539 2)
Genre:
Instrumental Rock, Guitar Virtuoso
Quality:
FLAC (image+.cue+covers)
Length:
48:04 + 44:19 min
Tracks:
15 (2 CD)
Total Size:
675 MB (+5%)
Alive in an Ultra World is a live album by Steve Vai, recorded during The Ultra Zone world tour in 2000, and released in 2001. The songs compiled on this album were written specifically for the countries that Vai and his band were visiting. Aside from "Devil's Food", which is found on Vai's previous album Fire Garden, these songs were penned during long soundchecks and could not previously be found on any other album. Due to logistical complications, some songs could not be recorded in the nation they were written for.
Tracklist:
СD 1:
01. Giant Balls Of Gold (4:45)
02. Burning Rain (4:50)
03. The Black Forest (6:38)
04. Alive In An Ultra World (3:53)
05. Devil's Food (10:11)
06. Blood And Glory (4:53)
07. Whispering A Prayer (8:43)
08. Iberian Jewel (4:38)
CD 2:
01. The Power Of Bombos (5:05)
02. Incantation (8:53)
03. Light Of The Moon (5:44)
04. Babushka (6:41)
05. Being With You (In Paris) (6:26)
06. Principessa (5:46)
07. Brandos Costumes (Gentle Ways) (6:04)
Band:

Steve Vai: guitar, vocals and musical tormentor of the band
Mike Keneally: keyboards, guitar, vocals
Mike Mangini: drums
Philip Bynoe: bass, vocals
Dave Weiner: guitar, acoustic guitar, choral sitar
Chris Frazier: drums (Whispering A Prayer)
Eric Goldberg: keyboards (Whispering A Prayer)
Download / Скачать flac:
Nitroflare.com
Turbobit.net
Depfile.com
Hitfile.net