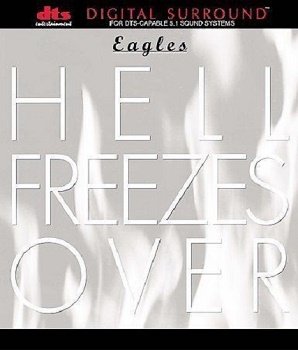 Artist:
Eagles
Title Of Album:
Hell Freezes Over
Release Date:
1997 (1994)
Location:
USA
Label:
DTS Entertainment (71021-51006-2-3)
Genre:
Folk-Rock, Country Rock, Classic Rock
Quality:
DTS 5.1 (tracks) [.wav]
Length:
75:52 min
Tracks:
16
Total Size:
817 MB (+5%)
Hell Freezes Over is the second live album by the Eagles, released in 1994. The album is the first to be released after the Eagles had reformed following a fourteen-year-long break up. The band's lineup was that of the Long Run era: Glenn Frey, Don Henley, Don Felder, Joe Walsh, and Timothy B. Schmit. It contains four new studio tracks and eleven tracks recorded live in April 1994 for an MTV special. Two Top 40 Mainstream singles, "Get Over It" and "Love Will Keep Us Alive", were released from the album. It also features an acoustic version of "Hotel California". The four new studio recordings are the last to feature Don Felder, who was dismissed from the band in 2001.
Tracklist:
01. Tequila Sunrise (03:26)
02. Love Will Keep Us Alive (04:16)
03. Learn To Be Still (04:30)
04. Hotel California (07:08)
05. Wasted Time (05:24)
06. Pretty Maids All In A Row (04:20)
07. I Can't Tell You Why (05:02)
08. The Girl From Yesterday (03:34)
09. New York Minute (06:31)
10. The Last Resort (07:20)
11. Take It Easy (04:32)
12. In The City (04:04)
13. Life In The Fast Lane (05:18)
14. Get Over It (03:37)
15. Desperado (04:19)
16. Seven Bridges Road (03:16)
Password:
MorPeh
Download:
Turbobit.net
Depfile.com
Dfiles.ru