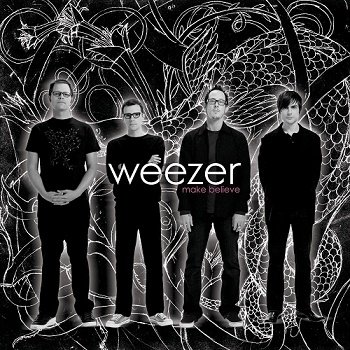 Artist:
Weezer
Title Of Album:
Make Believe
Release Date:
2005
Location:
USA
Label:
Geffen Records (0602498817179)
Genre:
Alternative Rock, Indie Rock
Quality:
APE (image+.cue+covers)
Length:
45:13 min
Tracks:
12
Total Size:
332 MB (+5%)
Make Believe is the fifth studio album by American rock band Weezer, released on May 10, 2005 by Geffen Records. The album was considered to be a return to some of the emotionally vulnerable lyrics of Weezer's previous releases, and due to the strength of the hit single "Beverly Hills", the album was a commercial success. In addition, "Beverly Hills" also gained Weezer's first Grammy nomination for Best Rock Song. Despite this, Make Believe received mixed reviews from critics and fans, although it has remained a consistent seller. The recording process of Make Believe began prior to the release of their previous album, Maladroit; however, it was prolonged compared to the recording of most of Weezer's previous albums, and lasted for almost three years. Rivers Cuomo's songwriting on Make Believe was described as "[a] return to musical, emotional bloodletting", although the lyrics were noticeably more simplified than before.
Tracklist:
01. Beverly Hills (3:20)
02. Perfect Situation (4:17)
03. This Is Such A Pity (3:27)
04. Hold Me (4:21)
05. Peace (3:55)
06. We Are All On Drugs (3:35)
07. The Damage In Your Heart (4:04)
08. Pardon Me (4:18)
09. My Best Friend (2:50)
10. The Other Way (3:18)
11. Freak Me Out (3:26)
12. Haunt You Every Day (4:36)
Password:
777
Turbo | Nitro | Dfiles