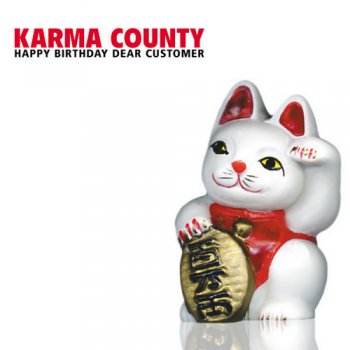 Artist: Karma County
Title Of Album: Happy Birthday Dear Customer
Year Of Release: 2001
Label (Catalog#): Shock Records [KCP008]
Country: Australia
Genre: Alternative Country, Folk Rock, Indie Folk
Quality: FLAC (tracks,cue,log,scans)
Bitrate: Lossless
Time: 41:59
Full Size: 310 mb
Upload: Turbobit
As the record company model collapsed this became the first album Karma County put out completely independently. An eclectic collection of styles makes up this album – in hindsight, reflective of the changes that had occurred since the internet took over.

Since Karma County's hit song 'Postcard' announced the arrival of the Sydney trio in 1997, their music has ranged across an eclectic terrain – and on March 4 they will be bringing those lush, melodious, thoughtful and emotive sounds back to the stage with a Sydney show at Venue 505.

Over twenty years on from their beginnings playing iconic Sydney pubs like the Sando and the Annandale, Karma County are still comprised of original members singer/guitarist Brendan Gallagher, bassist Michael Galeazzi and drummer Stuart Eadie.

Together they have released five studio albums and toured the world, all the while keeping their artistic independence and claiming success with sold out shows and an ARIA Award for Best Adult Contemporary Album in 2000 for 'Into The Land of Promise' – their third album featuring the hits 'Secret Country' and 'The Men Who Ran Away From The Circus'.

The success of the album saw Karma County tour Australia as well as Europe, the UK and North America, with tour highlights including performances at WOMAD festivals in Hanover, Reading and Seattle, opening the Australian Film Festival in Rome and guesting with Jimmy Little at Shakespeare's Globe Theatre in London.

Following 'Into The Land of Promise', Karma County went on to release their fourth album 'Happy Birthday Dear Customer' and fifth album 'Pacifico' featuring 'Dexter & Sinistra' – a song and video with Australian acting icon Bryan Brown.

In 2008, a special two disc retrospective 'Headland' was released and was accompanied by a brief east coast Australian tour. The album featured two new tracks, re-mixed and re-mastered tracks from their five studio albums, live tracks and some rarities.
::TRACKLIST::
1 Happy Birthday Dear Customer 03:34
2 Love Sublime 02:59
3 Where Could I Go But Home 02:50
4 I Was Raised I Was Lowered 04:13
5 Lucky 04:09
6 Ms Serendipity 03:34
7 Tabbimoble 05:00
8 Melancholy Window 03:03
9 The Sea Is A Siren 03:00
10 In My Time 02:38
11 Can't Shake This Thing 03:34
12 Darlin' It's Arranged 03:21
:: DOWNLOAD LINK ::
Внимание! У Вас нет прав для просмотра скрытого текста.
:: MusicMuss ::