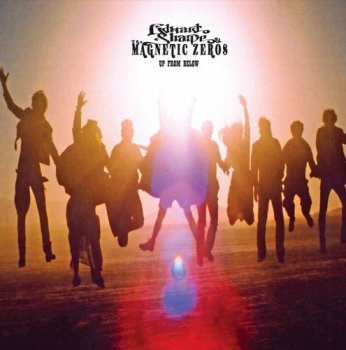 Artist: Edward Sharpe & The Magnetic Zeros
Title Of Album: Up From Below
Year Of Release: 2009
Label (Catalog#): Community Music/Fairfax Recordings/Shock [VR542]
Country: United States
Genre: Indie Folk, Folk Rock, Neo-Psychedelia
Quality: FLAC (tracks,cue,log,scans)
Bitrate: Lossless
Time: 56:48
Full Size: 456 mb
Upload: Turbobit
"40 Day Dream," the Motown-infused, OutKast-inspired, heavily orchestrated "Beatlesque" soul jam that opens Up from Below, serves as a pretty good litmus test for what follows. Listeners who are put off by the robe-wearing Polyphonic Spree's cultish glazed-eye self-help anthems or cringe when they hear the Mamas & the Papas' "Young Girls Are Coming to the Canyon" would be advised to get off the magic bus early, as Edward Sharpe & the Magnetic Zeros have crafted a love letter to Laurel Canyon and all of its quasi-mystic juju that is as infuriatingly contrived and retro as it is forward-thinking and majestic. Formed in 2007 by Ima Robot frontman Alex Ebert, the mammoth 11-piece outfit embraces "the Summer of Love" with enough period beards, fonts, and Eastern mysticism to launch a thousand "Magical Mystery Tours," but despite all of the analog equipment and peacenik grandstanding, standout tracks like "Home," "Desert Song," and the aforementioned "40 Day Dream" sweep you up in their grandeur like a patchouli tornado and dare you to take your clothes off and jump in the lake with them.
::TRACKLIST::
01. 40 Day Dream ( 3:53)
02. Janglin ( 3:49)
03. Up From Below ( 4:10)
04. Carries On ( 4:31)
05. Jade ( 3:43)
06. Home ( 5:06)
07. Desert Song ( 4:30)
08. Black Water ( 3:50)
09. I Come In Please ( 5:06)
10. Simplest Love ( 2:52)
11. Kisses Over Babylon ( 5:15)
12. Brother ( 3:57)
13. Om Nashi Me ( 6:16)
:: DOWNLOAD LINK ::
Внимание! У Вас нет прав для просмотра скрытого текста.
:: MusicMuss ::