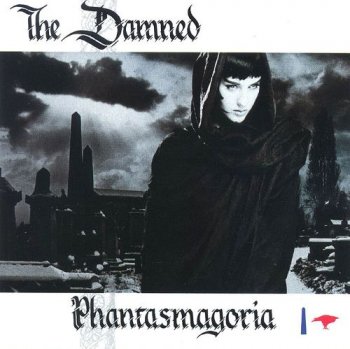 Artist: The Damned
Title Of Album: Phantasmagoria
Year Of Release: 1985/1989
Label (Catalog#): MCA Records [MCD 01887]
Country: England
Genre: Goth Rock, New Wave, Synth-pop
Quality: FLAC (tracks,cue,log,scans)
Bitrate: Lossless
Time: 51:42
Full Size: 346 mb
Upload: Turbobit
By the time the Damned found themselves on a major label after nine years of ups, downs, and all-arounds, a big change had taken place: Captain Sensible, with both his own solo successes and other pressures coming to bear, decided to depart. Keyboardist Roman Jugg took over the guitar, while Bryn Merrick remained on bass and Vanian and Scabies continued doing their thing. The first fruit of this new Damned, Phantasmagoria, doesn't match up to the excellent variety and performance level on Strawberries, but still has a lot to show while at the same time exploring new territory for the group. The cover and artwork seem to ally the Damned even more closely with goth rock than before, but Vanian thankfully has never seen fit to simply ape those clichés, steering his own powerful path. Similarly, the music can be moody but never without its own distinct energy and fire -- more a Cramps sense (if not sound) of loving the dark than anything, but with a clean, modern sheen and just enough Hammer horror. "Street of Dreams" makes for a powerful, anthemic opener, with some fine Scabies drumming. "Is It a Dream," the one song with a Sensible co-writing credit, is yet another fantastic Vanian vocal showcase in a career of many. The really killer tracks include "Shadow of Love," a semi-Morricone-style mood-out quick shuffle with haunting guitar from Jugg, and "Grimly Fiendish," a funny bit of spooky psychedelia not all that far off from where the Dukes of Stratosphear would end up a couple of years later. Phantasmagoria concludes with the surging instrumental "Trojans," a strong number that showed the Damned had lots of life in them yet.
::TRACKLIST::
1 Street Of Dreams 5:30
2 Shadow Of Love 4:07
3 There'll Come A Day 4:15
4 Sanctum Sanctorum 6:21
5 Is It A Dream 3:30
6 Grimly Fiendish 3:48
7 Edward The Bear 3:45
8 The Eighth Day 3:34
9 Trojans 4:50
10 Grimly Fiendish (The Bad Trip Mix) 5:09
11 Shadow Of Love (Ten Inches Of Hell Mix) 6:32
The Damned
Dave Vanian – vocals
Roman Jugg – guitar, keyboards, vocals
Bryn Merrick – bass
Rat Scabies – drums
Additional musicians
Paul Shepley – additional keyboards
Andy Richards – additional keyboards
Luís Jardim – percussion
Gary Barnacle – saxophone and brass
Steve Nieve – keyboard inspiration
:: DOWNLOAD LINK ::
Внимание! У Вас нет прав для просмотра скрытого текста.
:: MusicMuss ::
Изменил: artmuss по причине: Re-Up