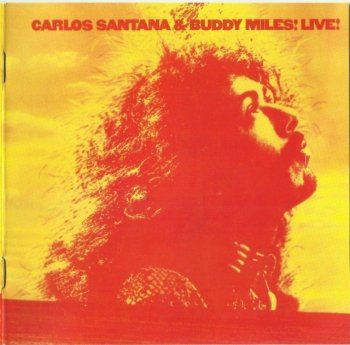 Artist: Carlos Santana & Buddy Miles
Title Of Album Live!
Year Of Release:1972
Label (Catalog#) : Columbia 478089 2]
Country: USA
Genre: Jazz-Rock, Jam Rock, Free Improvisation
Quality: FLAC (image + cue,log)
Bitrate: Lossless
Total Time: 00:46:04
Total Size: 305mb(+3%)(covers)

AllMusic Review by William Ruhlmann
From December 1971 to April 1972, Carlos Santana and several other members of Santana toured with drummer/vocalist Buddy Miles, a former member of the Electric Flag and Jimi Hendrix's Band of Gypsys. The resulting live album contained both Santana hits ("Evil Ways") and Buddy Miles hits ("Changes"), plus a 25-minute, side-long jam titled "Free Form Funkafide Filth." It was not, perhaps, the live album Santana fans had been waiting for, but at this point in its career, the band could do no wrong. The album went into the Top Ten and sold a million copies.
Tracklist
---------
1. "Marbles" [John McLaughlin] - 4:18
2. "Lava" [Buddy Miles] - 2:10
3. "Evil Ways" [Clarence "Sonny" Henry] - 6:36
4. "Faith Interlude" [Miles, Carlos Santana] - 2:13
5. "Them Changes" [Miles] - 5:50
6. "Free form Funkafide Filth" [Greg Errico, Ron Johnson, Miles, Santana] - 24:54

Personnel:
---------
Buddy Miles – vocals, drums, percussion, congas
Carlos Santana – guitar, vocals
Neal Schon – guitar
Bob Hogins – organ, electric piano
Ron Johnson – bass guitar
Greg Errico – drums
Richard Clark – drums, percussion, congas
Coke Escovedo – drums, percussion, timbales
Mike Carabello – percussion, congas
Mingo Lewis – percussion
Victor Pantoja – percussion, congas
Hadley Caliman – flute, saxophone
Luis Gasca – trumpet

All thanks to original releaser
Внимание! У Вас нет прав для просмотра скрытого текста.
Изменил: sirk по причине: RE-UP