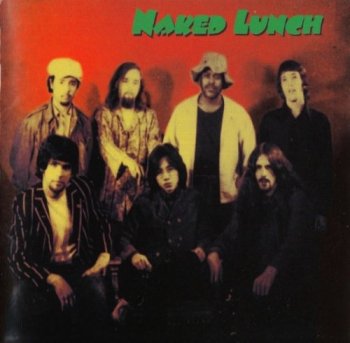 Artist: Naked Lunch
Title Of Album Naked Lunch
Year Of Release: 1969-72
Label (Catalog#) World In Sound [WIS 1040]
Country: USA
Genre Psych Rock, Jazz-Rock, Latin
Quality: FLAC (tracks+cue,log,scans)
Bitrate: Lossless
Quality: 00:57:05
Full Size: 409mb(+3%)

Four Decades after WOODSTOCK, these fabulous recording sessions see the light of day for the first time. This album contains 5 studio tracks from 1969, recorded at the popular 'Mu House' by the panhandle in San Francisco's Haight & Ashbury where the likes of Janis Joplin, Grateful Dead, Paul Butterfield Blues Band with Michael Bloomfield frequently played music. Plus, 2 live tracks from 1970 during their 'Hight Time' best! An added bonus of 2 songs from Banda de Jesus, (a band which included 3 original Naked Lunch members), recorded by David Rubinson & Fred Catero at Pacific Recording in San Mateo, CA circa 1972. To put it in a genre ... it blends the best of Latin Rock, with 'rare grooves, and tricky jazz/funk elements'. Highly addictive melodies, with emotional vocals, pulsating beats with floating conga rhythms, soaring electric guitar, whirling Hammond Organ, and a punchy Horn-duo, create powerful arrangements to set your home stereo ablaze. This release tells the story , musically, but also in extended linernotes, and rare photos (on included poster) the evolution of the band which was founded in the Summer of '69. Led by 16 year old Abel Zarate (Gtr & vocals) to become one of SF's hottest live acts in 1970 - a record deal with Bill Graham's Fillmore Records was in sight, but NL was too 'raw', and energetic to be reigned in and 'commercialized'. But now you hear it, remastered to a fresh dynamic sound from the original sesssion tapes. The trio from NL, Murray (trumpet), Spremich (drums), and Zarate took a huge part in helping to create the sound of Latin Rock group MALO, on their 1972 debut record, and helped that band become one of the premier Latin Rock groups of the era.... HERE ARE THEIR ROOTS! The sum of the music, and the intensity of these recordings can be compared to SANTANA's Woodstock performance, with a bit of Hendrix-vibe, and Blood, Sweat & Tears influence. Truly a HIGHLIGHT of an almost forgotten San Francisco original.ommended.
Tracks:
-------
1. Love Is Everywhere - 3:11
2. Changes - 5:42
3. Endless Night - 4:10
4. Virgin Woman - 5:18
5. Ozone - 5:22
6. Your Song - Time Trip - 6:30
7. Encore - 4:22
8. All I Want To Do - 3:12
9. Better Days - 3:48
10.Lovely Day - 5:58
11.Livin' Is Funky - 9:39
12.Ozone (Live) - 4:49

Personnel:
---------
Abel Zarate - Vocals, Guitar
Robert Olivera - Saxophone, Vocals
Roy Murray - Trumpet, Trombone
Rick Tiffer - Guitar, Bass (Tracks 1-7)
Charles Fletcher - Bass (Tracks 1-7)
Jose Marrero - Conga (Tracks 1-7)
Ludwig Fist Stephens - Hammond C3 (Tracks 1-7)
Rich Spremich - Drums (Tracks 1-7)
Ron Freitas - Hammond B3, Vocals (Tracks 8-11)
James Hutchison - Bass, Vocals (Tracks 8-11)
Roger Alves - Drums (Tracks 8-11)

All thanks to original releaser
Внимание! У Вас нет прав для просмотра скрытого текста.
Изменил: sirk по причине: RE-UP