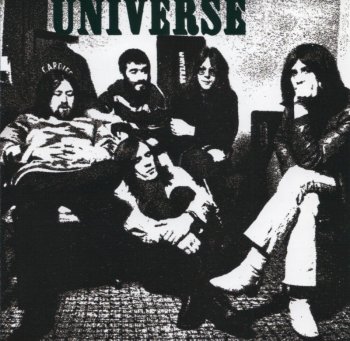 Artist: Universe
Title Of Album: Universe
Year Of Release: 19712014
Label (Catalog#) Flawed Gems [GEM 126]
Country: UK
Genre: Hard Psych Blues Rock
Bitrate: Lossless
Quality: FLAC (tracks+cue,log)
Time: 00:57:17
Full Size: 411mb(+3%)(cover)

The intriguing story of Universe is that the little-known band were driving through Norway and after breaking down were offered assistance by a gent living near-by who happened to have a recording studio in his house. True or not their single album is a great slice of blue-collar rock.

The original 1971 pressing of the only record by this UK progressive band is one of the rarest British prog albums ever! Released in an edition of 200 copies (some without covers) by the tiny Norwegian Experience label, it's almost impossible to locate! The music on offer is great guitar-driven hard rock with some bluesy and progressive elements, similar to early Wishbone Ash, Thin Lizzy, Man and Hackensack. This premiere CD has been expanded with single tracks and two titles from the 1970 acetate.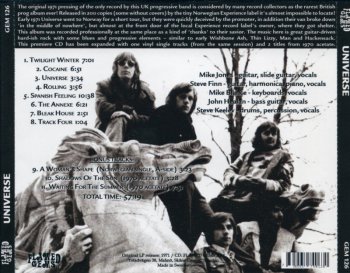 Tracks:
-------
01. Twilight Winter 7:01
02. Cocaine 6:51
03. Universe 3:34
04. Rolling 3:56
05. Spanish Feeling 10:38
06. The Annexe 6:21
07. Bleak House 2:51
08. Track Four 1:04
09. A Woman's Shape (Norwegian Single, A-Side) [bonus track] 3:23
10. Shadows of the Sun (1970 Acetate) [bonus track] 3:28
11. Waiting for the Summer (1970 Acetate) [bonus track]

Personnel
---------
Mike Blance (vocals, keyboards)
Steve Finn (vocals, guitar, harmonica, piano)
John Healan (vocals, bass guitar)
Mike Jones (vocals, guitar, slide guitar)
Steve Keelev (vocals, drums, percussion)
Внимание! У Вас нет прав для просмотра скрытого текста.
Изменил: sirk по причине: RE-UP