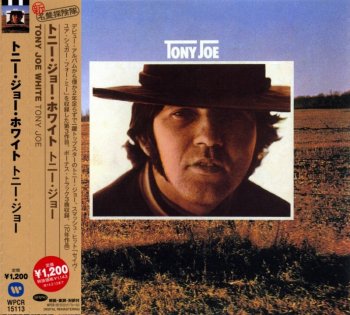 Artist: Tony Joe White
Title Of Album: Tony Joe
Year Of Release: 1970/2013
Label (Catalog#) Warner [WPCR 15113]
Country: USA
Genre: Rock, Blues, Country
Bitrate: Lossless
Quality: FLAC (image + cue,log,scans)
Time: 00:49:25
Full Size: 378mb(+3%)

Tony Joe was the third studio album released by Tony Joe White. It was released on Monument Records and contained the singles "High Sheriff of Calhoun Parrish" and "Save Your Sugar For Me" It was recorded at RCA Victor Studios, Nashville and Lyn-Lou Studios, Memphis in 1970. It was produced by Billy Swan. A mixture of original recordings and covers, it featured White's versions of "Hard To Handle" made popular by Otis Redding and "Boom Boom" by John Lee Hooker.
Tracks:
-------
01. Stud Spider - 5:37
02. High Sheriff Of Calhoun Parrish - 3:51
03. Widow Wimberly - 3:42
04. Groupie Girl - 3:04
05. Conjure Woman - 3:57
06. Save Your Sugar For Me - 2:21
07. Hard To Handle (Otis Redding, Alvertis Isbell, Allen Jones) - 2:53
08. What Does It Take (Vernon Bullock, Johnny Bristol, Harvey Fuqua) - 3:40
09. My Friend (Donnie Fritts, Spooner Oldham) - 3:12
10. Stockholm Blues - 3:28
11. Boom Boom (John Lee Hooker) - 7:52
12. I Protest (Wayne Carson) - 3:10
13. Man Can Only Stand Just So Much Pain (Mickey Newbury) - 2:31

Personnel
---------
Tony Joe White - Vocals, Guitar, Harmonica, Whomper Stomper Box
Norbert Putnam - Bass
Mike Utley - Organ, Piano
Jerry Carrigan - Drums
Tommy McClure - Bass
David Briggs - Organ, Piano
Sammy Creason - Drums
The Nashville Horns And Strings Arranged by Bergen White
Внимание! У Вас нет прав для просмотра скрытого текста.
Изменил: sirk по причине: RE-UP