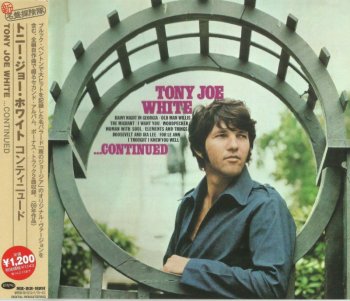 Artist: Tony Joe White
Title Of Album: ...Continued
Year Of Release: 1969/2013
Label (Catalog#) Warner [WPCR 15112]
Country: USA
Genre: Swamp Roots-Rock, Blues Rock
Bitrate: Lossless
Quality: FLAC (image + cue,log,scans)
Time: 00:44:13
Full Size: 294mb(+3%)

Tony Joe White's second album on Monument Records quickly followed his first, again produced by Billy Swan. It was another collection of songs in the same distinctive swampy roots-rock style, all originals this time, with backing from Tommy McClure (bass), Mike Utley (organ) and Sammy Creason (drums). One single from the album, "Roosevelt And Ira Lee", charted modestly at #44. Another song on the album has since become White's best-known composition - "Rainy Night In Georgia" was covered by Brook Benton in 1970, who took it into the Top 10. It has since become something of a standard, being covered by a myriad of different artists.
Tracks:
-------
01. Elements And Things - 5:15
02. Roosevelt And Ira Lee (Night Of The Mossacin) - 3:06
03. Woodpecker - 2:47
04. Rainy Night In Georgia - 3:42
05. For Le Ann - 3:24
06. Old Man Willis - 3:16
07. Woman With Soul - 3:20
08. I Want You - 5:22
09. I Thought I Knew You Well - 4:16
10. The Migrant - 3:32
11. Watching The Trains Go By (Dewey Oldham, Wallace Pennington) - 3:07
12. Old Man Willis - 3:06

Personnel
---------
Tony Joe White – Vocals, Guitar, Harmonica
Tommy McClure – Bass
Sammy Creason – Drums
James Milhart – Drums
Mike Utley – Organ
Внимание! У Вас нет прав для просмотра скрытого текста.