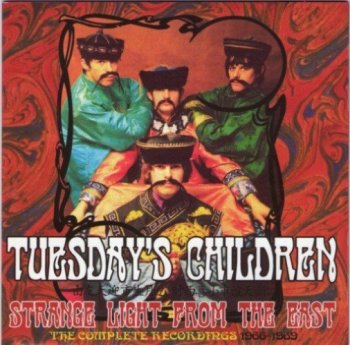 Artist
: Tuesday's Children
Title Of Album
: Strange Light From the East
Year Of Release
: 1966-69/2007
Label (Catalog#)
Rev-Ola [CR REV 209]
Country:
: UK
Genre
: Pop Rock, Psychedelic Rock
Quality
: FLAC (image + cue,scans)
Time
: 00:55:36
Full Size
: 317mb(+3%)
AllMusic Review by Richie Unterberger
Both sides of all six of this obscure British group's 1966-1968 singles are included on this compilation, which adds a 1969 solo A-side by original Tuesday's Children singer/songwriter Phil Cordell and five previously unreleased tracks. In an essential sense, Tuesday's Children are similar to several other British groups of the time that managed to release several records for different labels without making the charts, or even making much of a reputation among collectors. Like numerous other such bands, they had enough talent to separate them from the innumerable groups that only managed to put out one or two flops (or nothing at all), but not nearly enough to put them on the level of the notable bands of the era. And like many such acts, they never developed or stuck to a certain style, or came up with that song or two strong enough to be an undeniable hit, despite numerous opportunities. They did write much of their own material, and the passable British pop/rock period sounds of this CD range from light trendy psychedelia ("Strange Light from the East," "In the Valley of the Shadow of the East") to Beatlesque mod rock ("Summer Leaves Me with a Sigh," "High and Drifting"), Walker Brothers-lite ("When You Walk in the Sand"), Baroque pop-folk ("High on a Hill"), a heavy psych adaptation of a Spanish ballet ("Ritual Fire Dance"), and good-time vocal harmony-driven pop with an American influence. Just because this is in the also-ran category doesn't mean that fans of these genres in general might not find something to enjoy here, as the material's sung and produced well. There's not much here that's going to grab non-specialists, though, with the jubilant, orchestrated light psych of "Bright Eyed Apples" counting as about their best moment.
Tracks:
--------
1. Strange Light From The East (Phil Cordell) - 2:25
2. Summer Leaves Me With A Sigh (Phil Cordell) - 2:44
3. When You Walk In The Sand (Phil Cordell) - 2:56
4. High And Drifting (Phil Cordell) - 2:42
5. High On A Hill (Phil Cordell) - 2:59
6. That'll Be The Day (Norman Petty, Buddy Holly) - 2:21
7. Ain't You Got A Heart (Peter Callander, Mitch Murray) - 3:32
8. Baby's Gone (Phil Cordell) - 2:24
9. Guess I'm Losing You (Mick Ware) - 2:25
10.In The Valley Of The Shadow Of Love (Mick Ware) - 4:15
11.Mr Kipling (Mick Ware) - 2:24
12.Baby I Need You (Mick Ware) - 2:39
13.She (Mick Ware) - 2:50
14.Bright Eyed Apples (Shel Shapiro, Mike Shepstone) - 3:39
15.Doubtful Nellie (Paul Kendrick) - 3:07
16.Ritual Fire Dance (Manuel De Falla, arr. Bob Hodges) - 7:38
17.Red Lady (Phil Cordell) - 2:30
18.Baby's Gone (Demo) (Peter Callander, Mitch Murray) - 2:18

Personnel:
---------
Derrick Gough - Drums
Mick Ware - Guitar, Vocals
Bob Hodges - Keyboards, Vocals
Paul Kendrick - Bass, Vocals
Phil Cordell - Guitar, Vocals

All thanks to original releaser
Внимание! У Вас нет прав для просмотра скрытого текста.
Изменил: sirk по причине: RE-UP