Artist: Mark Lindsay
Title Of Album: Arizona/Silverbird
Year Of Release: 1970/1996
Label (Catalog#) :Collectables [COL-5805]
Country: USA
Genre: Soft-Pop-Rock
Quality: FLAC (image + cue,log,scans)
Bitrate: Lossless
Time: 01:07:12
Full Size: 391mb(+3%)

A 21-song collection drawn from the Arizona and Silverbird albums. The material is quite pop-oriented, and very pretty pop music -- there's not much rock here apart from "Arizona" and "Silverbird," and there are lots of string and brass sections at work, but Lindsay's voice is an extremely expressive instrument, and he gives some powerful performances. The material overlaps the repertories of the likes of Dionne Warwick, the Carpenters, and the Sandpipers ("Come Saturday Morning"), as well as Peter, Paul & Mary ("Leaving On a Jet Plane"); the arrangement on "We've Only Just Begun" is pure lounge act and makes the Carpenters' own version sound raw and direct; and the Beatles medley of "The Long and Winding Road"/"Yesterday" (two of Paul McCartney's wimpiest songs), where he sounds uncannily like McCartney, shows how far he'd come from the Raiders' punkier side. But that voice is very fine, still, and makes this material more worthwhile than it ought to be.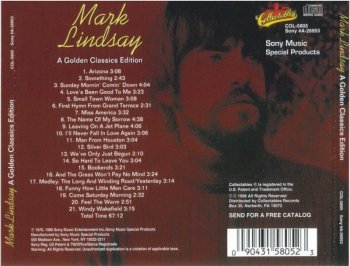 Tracks:
-------
01. Arizona (Kenny Young) - 3:08
02. Something (George Harrison) - 2:43
03. Sunday Morning Coming Down (Kris Kristofferson) - 4:04
04. Love's Been Good to Me (Rod McKuen) - 3:23
05. Small Town Woman - 3:08
06. First Hymn from Grand Terrace - 2:31
07. Miss America (James Kelly) - 3:32
08. The Name of My Sorrow (Jimmy Webb) - 4:38
09. Leaving on a Jet Plane (John Denver) - 4:06
10. I'll Never Fall in Love Again - 3:06
11. Man from Houston (Mark Lindsay) - 3:04
12. Silver Bird (Kenny Young) - 3:03
13. We've Only Just Begun (Roger Nichols, P. Williams) - 2:10
14. So Hard to Leave You - 3:04
15. Bookends - 3:21
16. And the Grass Won't Pay No Mind (Neil Diamond) - 3:24
17. Medley: The Long and Winding Road/Yesterday - 3:14
18. Funny How Little Men Care - 3:11
19. Come Saturday Morning - 2:32
20. Feel the Warm - 2:51
21. Windy Wakefield - 3:15

All thanks to original releaser
Внимание! У Вас нет прав для просмотра скрытого текста.
Изменил: sirk по причине: RE-UP