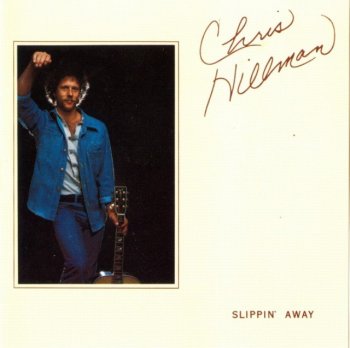 Artist: Chris Hillman
Title Of Album Slippin' Away
Year Of Release:1976/2002
Label (Catalog#) : Wounded Bird [WOU 1062]
Country: USA
Genre: Country Rock, Classic Rock
Quality: FLAC (image + cue,log)
Bitrate: Lossless
Total Time: 00:36:34
Total Size: 305mb(+3%)(cover)
EX - The Beefeaters, The Byrds, Manassas...

1976?s Slippin' Away sits alongside 1998?s outstanding Like A Hurricane as the peak of Chris Hillman's solo output. Joyous opener 'Step On Out' was later covered by the Oak Ridge Boys. Hillman cites 'Falling Again' as a favourite, while the catchy as hell 'Take It On The Run' should have been a country rock AM radio perennial.

The epic and haunting Stephen Stills song 'Witching Hour' had been in the Manassas repertoire, but that band's version was not released until the 2009 collection Pieces. The laidback 'Blue Morning' is another stunner.

Throughout the album, Hillman sounds like a confident vocalist, even though he confesses in the sleeve notes that this wasn't the case. Flying Burrito Brothers number 'Down In The Churchyard' is reworked here in an almost reggae-country style.

In a more traditional Burritos vein is 'Midnight Again', while Hillman returns to his bluegrass roots with album closer 'Take Me In Your Lifeboat'. He's aided throughout by a star-studded selection of guests, including Steve Cropper, Bernie Leadon, Timothy B. Schmit, Jim Gordon, Lee Sklar and Herb Pedersen.
Tracklist
---------
01. Step on Out (Chris Hillman, Peter Knobler) - 3:15
02. Slippin' Away - 3:27
03. Falling Again - 4:04
04. Take It on the Run - 3:25
05. Blue Morning - 3:51
06. Witching Hour (Stephen Stills) - 4:23
07. Down in the Churchyard (Chris Hillman, Gram Parsons) - 4:02
08. Love Is the Sweetest Amnesty (Danny Douma) - 3:43
09. Midnight Again - 3:35
10. (Take Me in Your) Lifeboat - 2:45

Personnel:
---------
Chris Hillman - Electric, 12 String, Acoustic, Guitars, Mandolin, Vocals, Bass
Byron Berline - Bass, Fiddle, Violin, Vocals
Sam Broussard - Rhythm Guitar
Steve Cropper - Rhythm, Electric, Guitars
Donnie Dacus - Guitar, Slide Guitar
Donald "Duck" Dunn - Bass
Jim Fielder - Bass
Flo And Eddie, Howard Kaylan - Vocals
Albhy Galuten - Arp Synthesizer, Synthesizer
David Garibaldi, Jim Gordon - Drums
Ivory Joe Harris, Paul Harris - Keyboards
Russ Kunkel - Drums
Joe Lala - Handclapping, Percussion, Tambourine
Bernie Leadon - Acoustic Guitar, Vocals
Richard Marx - Guitar, Vocals
Herb Pedersen - Banjo, Acoustic Guitar, Vocals
Al Perkins - Electric, Pedal Steel, Rhythm, Guitars,
Rick Roberts - Handclapping, Vocals
Timothy B. Schmit, Mark Volman - Vocals
Leland Sklar - Bass
George Terry - Guitar

All thanks to original releaser
Внимание! У Вас нет прав для просмотра скрытого текста.
Изменил: sirk по причине: RE-UP