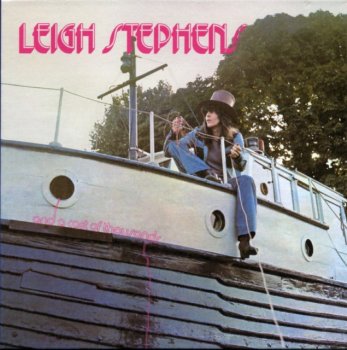 Artist: Leigh Stephens
Title Of Album And A Cast Of Thousands
Year Of Release: 1971/2004
Label (Catalog#) : Akarma [AK 094]
Country: USA
Genre: Psychedelic Rock, Classic Rock
Quality: FLAC (tracks+cue,log)
Bitrate: Lossless
Total Time: 00:32:22
Total Size: 226mb(+3%)(covers)

AllMusic Review by Keith Pettipas
Cast of Thousands is the second solo album release from Blue Cheer frontman Leigh Stephens. Originally recorded and released in the U.K. in 1971 on the Charisma label, this album is dramatically different from his debut, Red Weather. Cast of Thousands journeys into more of a jazz, AOR style on most of its tracks. The overabundance of horns and female backup vocals makes it rather annoying at times, but Stephens' superb guitar work does manage to shine through in places. This CD has been re-released in a slightly oversize cardboard gatefold sleeve which reproduces the original albums' graphics. For hardcore Stephens fans or Blue Cheer completists only.
Tracklist
---------
1. The World Famous Soul Transplant - 3:27
2. Medicine Man - 3:47
3. Simple Song - 4:52
4. Handful Of Friends - 1:56
5. Oh Lord - 5:31
6. Jumping Jack Flash (Mick Jagger, Keit Richards) - 4:47
7. Sweet Love Of Mine - 2:44
8. Chunk Of Funk - 5:29

Personnel:
---------
Leigh Stephens - Acoustic, Lead, Slide Guitar, Organ, Vocals
Dick Morrissey, Dave Quincey - Saxophone
Paul Maintenance - Acoustic Guitar, Vocals
Trevor Op - Acoustic Guitar, Vocals
Glenn Cornick, Kim Gardner, Peter Sears - Bass
Kevin Westlake, Mick Waller, Roy Dyke - Drums
Bob Andrews, Tony Ashton - Piano
Dave Jackson, Jeff Peach, Lyle Jenkins - Saxophone
Dave Caswell, Noel Norris - Trumpet
Aliki Ashman, Elizabeth Legworthy, Peter Ross - Vocals

All thanks to original releaser
Внимание! У Вас нет прав для просмотра скрытого текста.
Изменил: sirk по причине: RE-UP