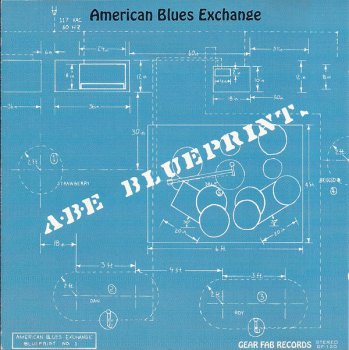 Artist: American Blues Exchange
Title Of Album Blueprint
Year Of Release:1969/1998
Label (Catalog#) : Gear Fab [GF-120]
Country: USA
Genre: Heavy Psychedelic Blues Rock
Quality: FLAC (image + cue)
Bitrate: Lossless
Total Time: 00:56:48
Total Size: 290mb(+3%)(covers)

AllMusic Review by Stanton Swihart
Blueprints is a sort of second- or third-generation go at the blues. American Blues Exchange, it seems, were influenced more by the British blues-based bands and American rock bands of the San Francisco acid-rock variety, which were spinning blues changes in completely new, non-blues directions, than by straight blues itself. More than competent players, the band had a burning dual-guitar attack in Roger Briggs and Don Mixter, and when used as the foundation of the songs such as "Ode to the Lost Legs of John Bean" and the fabulous blues rave-ups that explode in the middle of "On Solitude" and "The Taker," American Blues Exchange create excellent, tension-filled rock full of an intensity that doesn't have to stand in comparison to the blues because it is removed from the genre. "Burlington Letter," too, is a beautiful ballad that draws from the San Francisco sound of the times, though it would have greatly benefitted from distinct vocal personalities on the order of a Grace Slick or Marty Balin. Roy Dudley's voice is the weakest component of the band's studio cuts and occasionally causes the music to drag. As it is, "Burlington Letter" is full of dynamic atmospherics, but they never completely take off into the ether. Still, it shows a band that could certainly play. The rhythm section is perfectly capable of holding down a groove (the Canned Heat facsimile, "Recorder Thing") or whipping into a frenzy beneath the guitars. There is plenty to listen to on Blueprints, but when American Blues Exchange tries to play it straight, the album falters. The Gear Fab reissue adds three additional blues covers that show the band can indeed be impressive -- much stronger than on the studio cuts -- including a raw vocal by Dudley on "One Sunny Day" that destroys all his studio vocals. On the evidence of those live cuts, Blueprints is perhaps not entirely indicative of the band's prowess and that lessens its musical value.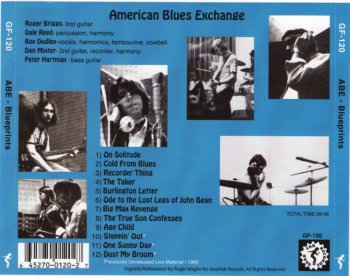 Tracklist
---------
01. On Solitude (R. Dudley) - 3:32
02. Cold From Blues (R. Dudley) - 6:00
03. Recorder Thing (D. Mixter) - 2:39
04. The Taker (P. Hartman, D. Mixter) - 5:17
05. Burlington Letter (R. Dudley) - 6:25
06. Ode To The Lost Legs Of John Bean (Briggs, Melhun) - 3:22
07. Big Max Revenge (R. Briggs) - 4:30
08. The True Son Confesses (R. Dudley) - 4:59
09. Age Child (R. Dudley) - 8:34
Bonus tracks
10. Steppin1 Out (LC.Frazier) - 3:15
11. One Sunny Day (D.Kirwah) - 3:11
12. Dust My Broom (Elmore James) - 4:20

Personnel:
------
Roger Briggs - First Guitar
Dale Reed - Percussion, Harmony
Roy Dudley - Vocals, Harmonica, Tambourine, Cwobel
Don Mixter - Second Guitar, Recorder, Harmony
Peter Hartman - Bass Guitar

All thanks to original releaser
Внимание! У Вас нет прав для просмотра скрытого текста.