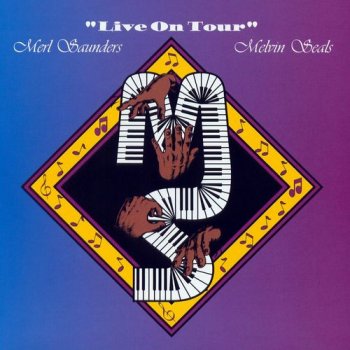 Artist: Merl Saunders & Melvin Seals
Title Of Album: Live On Tour
Year Of Release: 2006
Label (Catalog#): Blues Planet Records [0301]
Country: United States
Genre: Blues, Rock, Soul/Funk, Jazz
Quality: FLAC (tracks,cue,log)
Bitrate: Lossless
Time: 2:11:07
Full Size: 795 mb
Upload: Turbobit
Hammond B3 player Merl Saunders has recorded with numerous renowned artists since the early '70s and has led many of his own dates in a variety of genres from jazz to blues to new age to rock. Born on Valentine's Day, 1934 in San Mateo, CA, Saunders began learning to play the piano at the age of 10. Saunders decided on music as a profession after seeing how much fun was had by audience and performers alike at concerts by such musicians as Cab Calloway. He apprenticed early on with Jimmy Smith for a time, and attended various music schools. Starting in the 1960s, Saunders collaborated on and off with Jerry Garcia and the Grateful Dead. He also began working as a jazz keyboardist in the early '70s, and since has performed and recorded with Harry Belafonte, Frank Sinatra, Lionel Hampton, Miles Davis, B.B. King, Bonnie Raitt and Paul Butterfield. One of his several albums with Jerry Garcia, Blues From the Rainforest, hit the Top 5 of the U.S. Billboard New Age charts in the early '90s.

This album is a keyboard extravaganza, as two of the instruments premier players join together for these live recordings. With Melvin Seals on organ and Fender Rhodes and Saunders on piano and synthesizer, you can bet this 2-CD set is packed to the gills with stunning performances. From legendary covers like "Whiter Shade Of Pale" and "Fire On The Mountain" to their own soulful tunes and beyond, Saunders and Seals display mastery of form and freedom for the duration of this release. Anchored by a tight rhythm section and colored by nimble guitar work, these two giants of the music world are allowed to shine equally and intensely.
:: TRACKLIST ::Disc 1
1. Strugglin' Man (Live) (11:05)
2. It's In the Air (Live) (10:16)
3. Dark Star (Live) (11:28)
4. Whiter Shade of Pale (Live) (08:43)
5. That's What Love (Live) (08:54)
6. Finders Keepers (Live) (13:51)
7. Lay Back Baby (Live) (09:34)
Disc 2
1. Summer Jam (Live) (08:40)
2. Built for Comfort (Live) (06:24)
3. Fire On the Mountain (Live) (14:24)
4. Travellin' Man (Live) (08:21)
5. Merl's Tune (Live) (19:21)
:: DOWNLOAD LINK ::
Внимание! У Вас нет прав для просмотра скрытого текста.
:: MusicMuss ::