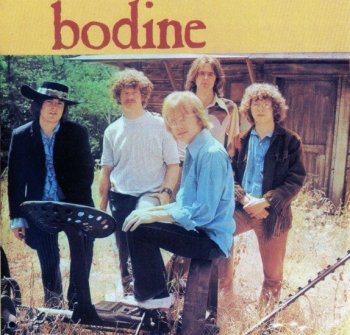 Artist: Bodine
Title Of Album: Bodine
Year Of Release: 1969
Label (Catalog#) :Synton Archive [SE 4652]
Country: USA
Genre: Southern Rock, Classic Rock
Quality: FLAC (tracks)
Bitrate: Lossless
Time: 00:41:14
Full Size: 282mb(+3%)(covers)

AllMusic Review by Matthew Greenwald
Bodine's good-time rock & roll debut is a combination of the Rockets (pre-Crazy Horse) and a heavy dose of Poco. Produced by Bill Cowsill of all people, the sound of the record veers from slightly squeaky-clean country-rock to some of the heavier rock sounds of the early '70s. The group itself is a fine little rock band, and the songwriting is also more than adequate. Where they fall short, however, is in the area of vocals. They occasionally tend to try to do some "big" country harmonies, with mixed results. In the end, though, it certainly is a promising debut album, and makes you wonder what happened to them after this.
Tracks:
-------
01. Short Time Woman (Eric Karl) - 3:44
02. Oakland (Kerry Magness) - 3:19
03. Into My Life (Eric Karl) - 2:55
04. Travelogue (Steve Lalor) - 3:07
05. It's Just My Way (Eric Karl) - 5:41
06. Easy To See (Steve Lalor) - 2:51
07. Take It Back (Eric Karl) - 3:22
08. Keep Lookin' Through Your Window (Eric Karl) - 3:47
09. Statues Of Clay (Steve Lalor) - 2:44
10. Long Way Just To Go Home (Eric Karl) - 2:56
11. Between The Lines (Steve Lalor) - 3:33
12. Disaster (Eric Karl) - 3:09

Personnel:
---------
Kerry Magness - Bass
Jon Keliehor – Drums
Eric Karl – Guitar
David Brooks - Keyboards
Steve Lalor – Guitar

All thanks to original releaser
Внимание! У Вас нет прав для просмотра скрытого текста.