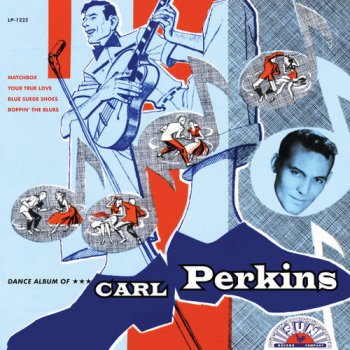 Artist: Carl Perkins
Title Of Album: Dance Album of Carl Perkins
Year Of Release: 1957/2015
Label (Catalog#): ORG Music [ORGM-2054]
Country: United States
Genre: Rock & Roll, Rockabilly
Quality: FLAC (tracks,scans)
Bitrate: Lossless [24bit-96kHz]
Time: 31:13
Full Size: 649 mb
Upload: Turbobit
Among the great early rock & roll albums, Dance Album, Carl Perkins' first LP for Sun, tends to get the short end of the stick. There's a reason for that. Sam Phillips rushed the album out after Perkins left Sun for Columbia in 1958, which was two years after "Blue Suede Shoes" was a hit, so Perkins not only didn't have a big single in the charts -- "Pink Pedal Pushers," his last for Sun, stalled at 91 on the pop charts -- but the label released it more as a cash-in than anything, and it never made much of an impact on the charts. These details fade into the past as the years go by, and what stands is the album itself, which is as good as rock & roll gets. First and foremost, the disc is a virtual greatest-hits album, containing most of Perkins' anthems: "Blue Suede Shoes," "Movie Magg," "Gone, Gone, Gone," "Honey Don't," "Everybody's Trying to Be My Baby," "Matchbox," "Boppin' the Blues," and "All Mama's Children." That's over half the album, and that's almost all of his big tunes, outside of "Put Your Cat Clothes On" and "Pink Pedal Pushers," which were added to Varese's superb expanded 2004 reissue, leaving just "Dixie Fried," "Lend Me Your Comb," and "Glad All Over" as missing hits. That's not bad for a greatest-hits album, but Dance Album is a hits album only in retrospect, after those tunes became standards. Combined, these tracks provided some of the toughest, rawest rockabilly, powered by Perkins' dynamic, gutsy guitar and earnest voice. Much of the rest of the record cruises by at the same speed -- the two-step tribute "Tennessee," the bopping "Your True Love," the speedy rockabilly blues cover "Right String, Wrong Yo Yo" -- slowing down for the pure country of "Sure to Fall" and a version of the Platters' "Only You" that turns it down-home. These may be the only two changes of pace, either in tempo or in style, but they give the album both range and a little bit of breathing room. But what really makes Dance Album a classic is that pure, hard-charging rockabilly that captures the genius of Perkins and is every bit as raw, energetic, and rocking decades after its release as it was at the time.
:: TRACKLIST ::
A1 Blue Suede Shoes
A2 Movie Magg
A3 Sure To Fall
A4 Gone Gone Gone
A5 Honey Don't
A6 Only You
B1 Tennessee
B2 Wrong Yo Yo
B3 Everybody's Trying To Be My Baby
B4 Matchbox
B5 Your True Love
B6 Boppin' The Blues
:: DOWNLOAD LINK ::
Внимание! У Вас нет прав для просмотра скрытого текста.
:: MusicMuss ::
Изменил: artmuss по причине: Re-Up