Artist: The Pretty Things
Title Of Album: The Rhythm & Blues Years
Year Of Release: 2003
Label (Catalog#) : Recall [SMDCD343]
Country: UK
Genre: Psych Rock, Garage, R&B, Beat, Pop Rock
Quality: FLAC (tracks+cue,log)
Bitrate: Lossless
Total Time: 01:36:24
Total Size: 493mb(+3%)(cover)

AllMusic Review by Jason Birchmeier
Before the Pretty Things began dabbling with psychedelia in the late '60s, they were primarily a R&B-influenced rock band. The double-disc, 34-track The Rhythm & Blues Years collection compiles the work from that early era in the band's history. Featured songs include the group's biggest hit from the time, "Don't Bring Me Down," along with less-remembered songs like "Honey, I Need," "Judgement Day," "The Moon Is Rising," "I'm Gonna Find Me Substitute," "13 Chester Street," "Oh Baby Doll," "Get a Buzz," and many more. Overall, this is a great one-stop collection for anyone interested in the group's more-anchored and less-heady work.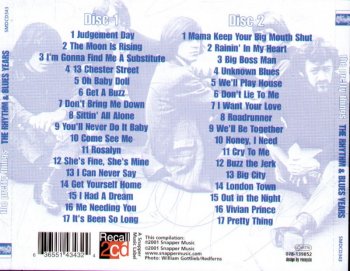 Tracklist:
---------
DISC 1:
1. Judgement Day
2. Moon Is Rising, The
3. I'm Gonna Find Me Substitute
4. 13 Chester Street
5. Oh Baby Doll
6. Get a Buzz
7. Don't Bring Me Down
8. Sittin' All Alone
9. You'll Never Do It Baby
10. Come See Me
11. Rosalyn
12. She's Fine, She's Mine
13. I Can Never Say
14. Get Yourself Home
15. I Had a Dream
16. Me Needing You
17. It's Been So Long
DISC 2:
1. Mama Keep Your Big Mouth Shut
2. Rainin' in My Heart
3. Big Boss Man
4. Unknown Blues
5. We'll Play House
6. Don't Lie to Me
7. I Want Your Love
8. Roadrunner
9. We'll Be Together
10. Honey I Need
11. Cry to Me
12. Buzz the Jerk
13. Big City
14. London Town
15. Out in the Night
16. Vivian Prince
17. Pretty Things

Personnel:
---------
Bass Guitar – John Stax
Bass Guitar, Backing Vocals – Wally Waller (tracks: 2-16)
Blues Harp – John Povey
Drums – Viv Prince
Drums, Percussion – Alan Skipper (tracks: 2-16)
Guitar – Frank Holland (3)
Lead Guitar – Dick Taylor (2)
Lead Vocals, Blues Harp – Phil May
Rhythm Guitar – Brian Pendleton

All thanks to original releaser
Внимание! У Вас нет прав для просмотра скрытого текста.