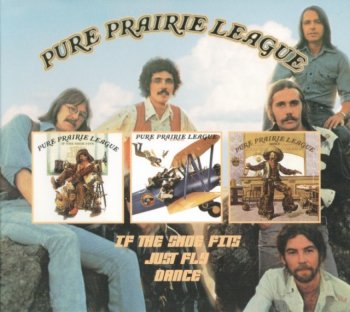 Artist: Pure Prairie League
Title Of Album: If The Shoe Fits / Just Fly / Dance
Year Of Release: 1976-78/2013
Label (Catalog#) Floating World [FLOATS6209]
Country: USA
Genre: Classic Rock, Country Rock, Southern Rock
Bitrate: Lossless
Quality: FLAC (tracks+cue,log)
Time: 01:43:03
Full Size: 692mb(+3%)(covers)

As a country-rock band, Pure Prairie League weren't out to ruffle feathers or be innovative, but concentrated instead on delivering easy, good-time country-pop. As long as the songs they were working with were good (which, unfortunately, was not always the case as the band forged on), they could be an unassuming delight. This set combines three of the group's late-'70s albums, 1976's If the Shoe Fits and Dance and 1978's Just Fly, in one package, and while it's all pleasant enough fare, there are far too few memorable songs on these late albums to earn much appeal for all but the most ardent of fans.

Digitally remastered two CD set containing a trio of albums from the criminally under-rated Country Rock band. If the Shoe Fits was their fourth album and was originally released in 1976. It was followed the same year by Dance. Just Fly was the band's seventh album and was released in 1978.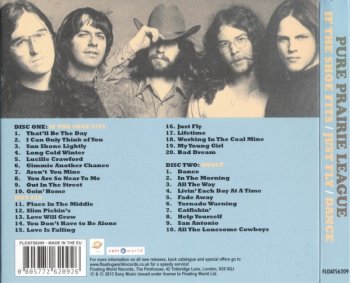 Tracks:
-------
DISC 1:
If The Shoe Fits (1976):
1. That'll Be The Day
2. I Can Only Think Of You
3. Sun Shone Lightly
4. Long Cold Winter
5. Lucille Crawfield
6. Gimme Another Chance
7. Aren't You Mine
8. You Are So Near To Me
9. Out In The Street
10. Goin' Home
Just Fly (1978):
11. Place In The Middle
12. Slim Pickin's
13. Love Will Grow
14. You Don't Have To Be Alone
15. Love Is Falling
16. Just Fly
17. Lifetime
18. Working In The Coal Mine
19. My Young Girl
20. Bad Dream
DISC 2 Dance (1976):
1. Dance
2. In The Morning
3. All The Way
4. Living Each Day At A Time
5. Fade Away
6. Tornado Warning
7. Catfishin'
8. Help Yourself
9. San Antonio
10. All The Lonesome Cowboys
Внимание! У Вас нет прав для просмотра скрытого текста.
Изменил: sirk по причине: RE-UP