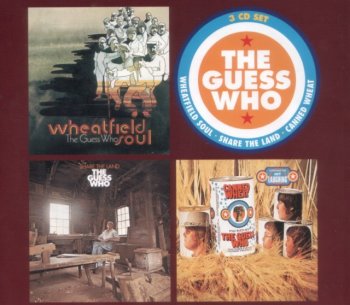 Artist: The Guess Who
Title Of Album Wheatfield Soul / Share The Land / Canned Wheat
Year Of Release:1969-70/2010
Label (Catalog#) : IronBird [IBIRD3 0008 CD]
Country: Canada
Genre: Classic Rock, Prog Rock, Soft Rock
Quality: Ape (image + cue,log)
Bitrate: Lossless
Total Time: 02:11:11
Total Size: 852mb(+3%)(covers)

Wheatfield Soul became a collector's item over the years. The hit These Eyes has the authority that the band repeated on chart songs down the line. What make Wheatfield Soul so sought after is inventive themes that found their way onto later albums. These Eyes remains timeless; it is the song that stands out as the masterpiece on this creative album.
1969's cleverly titled Canned Wheat introduced several of the bands most remembered songs and still sounds incredibly fresh, a product from the days of classic rock. Burt Cummings great rock & Roll voice keeps the most overdone Song fresh and Randy Bachman's underrated guitar work always serving the song' s needs.

Recorded in the aftermath of Randy Bachman's departure, Share The Land was a better album than anyone expected. It was the biggest selling original album in their career. Burton Cummings is in excellent voice and the new double lead guitar team of Kurt Winter and Greg Leskiw gave the band a greater range than they had before. The original album includes two numbers from earlier sessions, Palmyra and The Answer , featuring Randy Bachman on guitar.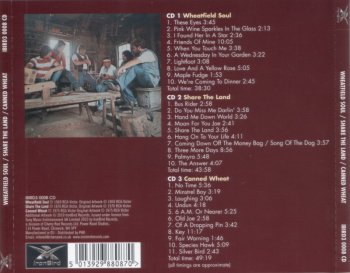 Tracklist
---------
CD-1 - Wheatfield Soul (1969)
01. These Eyes 3:45
02. Pink Wine Sparkles in the Glass 2:13
03. I Found Her In A Star 2:36
04. Friends Of Mine 10:05
05. When You Touch Me 3:38
06. A Wednesday In Your Garden 3:22
07. Lightfoot 3:08
08. Love and a Yellow Rose 5:05
09. Maple Fudge 1:53
10. We're Coming to Dinner 2:45
CD-2 - Share The Land (1970)
01. Bus Rider 2:28
02. Do You Miss Me Darlin' 3:58
03. Hand Me Down World 3:26
04. Moan for You Joe 2:41
05. Share the Land 3:56
06. Hang on to Your Life 4:11
07. Coming Down Off the Money Bag/Song of the Dog 3:57
08. Three More Days 8:56
09. Palmyra 5:48
10. The Answer 4:07
CD-3 - Canned Wheat (1969)
01. No Time 5:36
02. Minstrel Boy 3:19
03. Laughing 3:06
04. Undun 4:18
05. 6 A.M. Or Nearer 5:25
06. Old Joe 2:58
07. Of A Dropping Pin 3:42
08. Key 11:17
09. Fair Warning 1:46
10. Special Hawk 5:09
11. Silver Bird 2:43

Personnel:
------
Burton Cummings – lead vocals, rhythm guitar, keyboards, flute, harmonica
Randy Bachman – lead guitar, backing vocals
Jim Kale – bass, backing vocals
Garry Peterson – drums, backing vocals

All thanks to original releaser
Внимание! У Вас нет прав для просмотра скрытого текста.