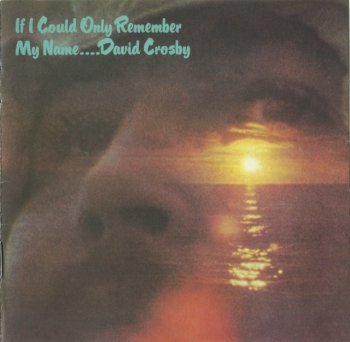 Artist: David Crosby
Title Of Album If I Could Only Remember My Name....
Year Of Release:1971/2011
Label (Catalog#) : Atlantic [R2 7203]
Country: USA
Genre: Psychedelic Folk Rock
Quality: Flac (image + cue,log)
Bitrate: Lossless
Total Time: 0:37:54
Total Size: 273mb(+3%)(covers)

AllMusic Review by Stanton Swihart
David Crosby's debut solo album, If I Could Only Remember My Name is a one-shot wonder of dreamy but ominous California ambience. The songs range from brief snapshots of inspiration (the angelic chorale-vocal showcase on "Orleans" and the a cappella closer, "I'd Swear There Was Somebody Here") to the full-blown, rambling western epic "Cowboy Movie," and there are absolutely no false notes struck or missteps taken. No one before or since has gotten as much mileage out of a wordless vocal as Crosby does on "Tamalpais High (At About 3)" and "Song With No Words (Tree With No Leaves)," and because the music is so relaxed, each song turns into its own panoramic vista. Those who don't go for trippy Aquarian sentiment, however, may be slightly put off by the obscure, cosmic storytelling of the gorgeous "Laughing" or the ambiguous (but pointed) social questioning of "What Are Their Names," but in actuality it is an incredibly focused album. Even when a song as pretty as "Traction in the Rain" shimmers with its picked guitars and autoharp, the album is coated in a distinct, persistent menace that is impossible to shake. It is a shame that Crosby would continue to descend throughout the remainder of the decade and the beginning of the next into aimless drug addiction, and that he would not issue another solo album until 18 years later. As it is, If I Could Only Remember My Name is a shambolic masterpiece, meandering but transcendentally so, full of frayed threads. Not only is it among the finest splinter albums out of the CSNY diaspora, it is one of the defining moments of hungover spirituality from the era.
Tracklist
---------
1. Music Is Love (David Crosby, Graham Nash, Neil Young) - 3:22
2. Cowboy Movie - 8:12
3. Tamalpais High (At About 3) - 3:33
4. Laughing - 5:27
5. What Are Their Names (David Crosby, Jerry Garcia, Michael Shrieve, Neil Young, Phil Lesh) - 4:15
6. Traction In The Rain - 3:47
7. Song With No Words - Tree With No Leaves - 6:00
8. Orleans (Traditional) - 2:02
9. I'd Swear There Was Somebody Here - 1:21

Personnel:
------
David Crosby - Vocals, Guitars
Graham Nash - Guitar, Vocals
Jerry Garcia - Electric Guitar, Pedal Steel Guitar, Vocals
Neil Young - Guitars, Vocals, Bass, Vibraphone, Congas
Jorma Kaukonen - Electric Guitar
Laura Allan - Autoharp, Vocals
Gregg Rolie - Piano
Phil Lesh - Bass, Vocals
Jack Casady - Bass
Bill Kreutzmann, Michael Shrieve, Mickey Hart - Drums
Joni Mitchell, David Freiberg, Paul Kantner, Grace Slick - Vocals

All thanks to original releaser
Внимание! У Вас нет прав для просмотра скрытого текста.
Изменил: sirk по причине: RE-UP