Artist New York Dolls
Title Of Album New York Dolls
Year Of Release:1973/2009
Label (Catalog#) Island Def Jam Music Group[UICY-60098]
Country: USA
Genre: Hard Glam Rock, Proto-Punk, Rock & Roll
Bitrate: Lossless
Quality: FLAC (image + cue,log)
Time: 00:43:07
Full Size: 314mb(+3%)(covers)

AllMusic Review by Mark Deming
When the New York Dolls released their debut album in 1973, they managed to be named both "Best New Band" and "Worst Band" in Creem Magazine's annual reader's poll, and it usually takes something special to polarize an audience like that. And the Dolls were inarguably special -- decades after its release, New York Dolls still sounds thoroughly unique, a gritty, big-city amalgam of Stones-style R&B, hard rock guitars, lyrics that merge pulp storytelling with girl group attitude, and a sloppy but brilliant attack that would inspire punk rock (without the punks ever getting its joyous slop quite right). Much was made of the Dolls' sexual ambiguity in the day, but with the passage of time, it's a misfit swagger that communicates most strongly in these songs, and David Johansen's vocals suggest the product of an emotional melting pot who just wants to find some lovin' before Manhattan is gone, preferably from a woman who would prefer him over a fix. If the lyrics sometimes recall Hubert Selby, Jr. if he'd had a playful side, the music is big, raucous hard rock, basic but with a strongly distinct personality -- the noisy snarl of Johnny Thunders' lead guitar quickly became a touchstone, and if he didn't have a lot of tricks in his arsenal, he sure knew when and how to apply them, and the way he locked in with Syl Sylvain's rhythm work was genius -- and the Dolls made their downtown decadence sound both ominous and funny at the same time. The Dolls were smart enough to know that a band needs a great drummer, and if there's something likably clumsy about Arthur Kane's bass work, Jerry Nolan's superb, elemental drumming holds the pieces in place with no-nonsense precision at all times. "Lonely Planet Boy" proved the Dolls could dial down their amps and sound very much like themselves, "Pills" was a superbly chosen cover that seemed like an original once they were done with it, and "Personality Crisis," "Trash," and "Jet Boy" were downtown rock & roll masterpieces no other band could have created. And while New York Dolls clearly came from a very specific time and place, this album still sounds fresh and hasn't dated in the least -- this is one of rock's greatest debut albums, and a raucous statement of purpose that's still bold and thoroughly engaging.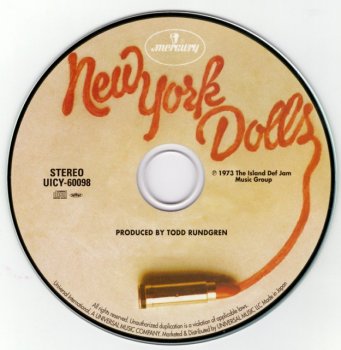 Tracks:
-------
01. Personality Crisis - 3:43
02. Looking For A Kiss - 3:20
03. Vietnamese Baby (Johansen) - 3:39
04. Lonely Planet Boy - 4:10
05. Frankenstein (Orig.) ( Johansen, Sylvain) - 6:00
06. Trash (Johansen, Sylvain) - 3:09
07. Bad Girl - 3:05
08. Subway Train - 4:22
09. Pills (Bo Diddley) - 2:49
10. Private World (Johansen, Arthur Kane) - 3:40
11. Jet Boy - 4:40

Personnel
---------
David Johansen - Vocals, Harmonica, Gong
Arthur "Killer" Kane - Bass Guitar
Jerry Nolan - Drums
Sylvain Sylvain - Rhythm Guitar, Piano, Vocals
Johnny Thunders - Lead Guitar, Vocals
Additional Personnel:
Todd Rundgren - Piano, Keyboards, Moog Synthesizer
Buddy Bowser - Saxophone
Alex Spyropoulos - Piano

All thanks to original releaser
Внимание! У Вас нет прав для просмотра скрытого текста.