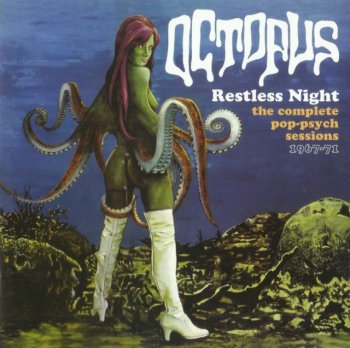 Artist: Octopus
Title Of Album: Restless Night
Year Of Release: 1967-71/2006
Label (Catalog#) : Rev-Ola [CR REV 180]
Country:: UK
Genre: Prog Psych Rock
Quality: FLAC (image + cue,log)
Bitrate: Lossless
Time: 01:15:25
Full Size 462mb(+3%)(covers)

Octopus biography
Originally named The CORTINAS, this mid-60's Hatfield quartet was discovered by The TROGGS' soon-to-be bassist Tony Murray and Nigel Olssen, destined to be Elton JOHN's regular drummer. It is Murray who eventually introduced the band to producer Larry Page, The TROGG's manager, and by 1968 OCTOPUS had earned a support spot to a promising young band called YES. They also got booked into the Marquee Club, toured Europe, shared the stage with HUMBLE PIE and STATUS QUO among others, and in 1970 released a first-rate pop album titled "Restless Night"; unfortunately, however, it failed to attract much enthusiasm outside their hometown. They stuck together for a while and then decided to split up in 1972. Their keyboard player John Cook later joined MUNGO GERRY whereas bassist Nigel Griggs and drummer Malcolm Green, both moving to Australia, eventually became members of SPLIT ENZ.

Their sole album is a fascinating specimen of early 70's pop with tinges of psychedelia, with musical phrases and choruses highly reminiscent of The BEATLES and TEN CC. Complete with the era's typical fuzz guitar and swirly organ, the album features short but catchy song-based melodies, a few bluesy jams and very strong vocals. The extremely rare original LP is no doubt worth a bundle but anyone interested in some fine pre-prog, 70's psych pop ought to seek out the 1997 CD release which contains several bonus tracks.
Tracks:
-------
01. The River (Nigel Griggs) - 4:22
02. I Was So Young (John Cook) - 2:58
03. Summer (Nigel Griggs) - 3:04
04. Council Plans (John Cook) - 3:33
05. Restless Night (Nigel Griggs) - 4:07
06. Orchard Bloom (Nigel Griggs) - 2:34
07. Thief (Nigel Griggs) - 3:36
08. Queen And The Pauper (Nigel Griggs) - 3:37
09. I Say (Nigel Griggs) - 1:52
10. John's Rock (John Cook) - 2:37
11. Rainchild (Nigel Griggs) - 3:06
12. Tide (John Cook, Nigel Griggs) - 5:32
13. Girlfriend (John Cook, Rick Williams) - 2:56
14. Laugh At The Poor Man (Jackie Steward, Nigel Griggs, Paul Griggs) - 3:17
15. Sagittarius (Nigel Griggs) - 3:41
16. In The Park (Unknown) - 3:18
17. Phoebe's Flower Shop (Brian Potter, Graham Dee) - 2:44
18. Too Much In Love (Brian Potter, Graham Dee) - 2:27
19. Call Me A Fool (Paul Raymond, Tony Murray) - 2:46
20. Turning Night Into Day (Paul Raymond, Tony Murray) - 2:20
21. I Am The Walrus (Live) (John Lennon, Paul McCartney) - 5:02
22. Peer Gynt Suite (Live) (Edvard Grieg) - 5:57

Personnel:
---------
Paul Griggs - Lead Guitar, Vocals
Nigel Griggs - Bass Guitar, Vocals
Rick Williams - Rhythm Guitar,Vocals
Brian Glasscock - Drums
John Cook - Wurlitzer Organ, Piano, Vocals
Malcolm Green - Drums

Notes:
Tracks 1, 3-5, 7-12 released as Restless Night (Penny Farthing PELS 508) in April 1971
Tracks 2, 6, 15, 16, 19 to 22 previously unreleased
Tracks 21 and 22 recorded live on 1st October 1971

All thanks to original releaser
Внимание! У Вас нет прав для просмотра скрытого текста.