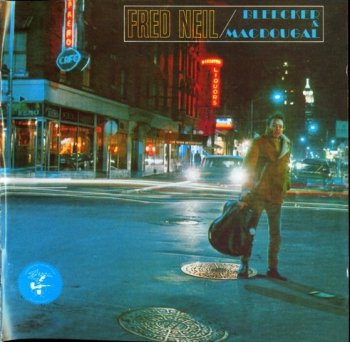 Artist: Fred Neil
Title Of Album: Tear Down The Walls / Bleecker And MacDougal
Year Of Release: 1974/2001
Label (Catalog#) Elektra / Warner [8122 73563-2]
Country: USA
Genre: Acoustic Folk Blues, Folk Rock
Bitrate: Lossless
Quality: FLAC (tracks+cue,log,scans)
Time: 01:14:21
Full Size: 450mb(+3%)
AllMusic Review by Bruce Eder
Fred Neil's two classic Elektra records albums assembled together on one CD, with new biographical notes supported by lots of photos, too. The CD is slightly uneven as a listening experience, mostly by virtue of the songs off of Tear Down the Walls, a hybrid work that has moments of inspired, heavyweight brilliance from Neil, compromised by the lighter-textured voice of Vince Martin, who almost always seems like he's trying hard to keep up with Neil and measure up to what his partner is doing. There are some brilliant songs, as the two slip into a serious blues groove on "Weary Blues"; soar together on the exultant, extended duet of "Baby" (which plays like an Indian raga with vocals); the darker-toned "Morning Dew"; and the driving, crunchy "Linin' Track," which leads into "Wild Child in a World of Trouble." Interspersed among those splendors, however, are some more retro (even for 1964) and forced commercial efforts, including the title tune, the kind of optimistic early-'60s folk number that might've found its way into the repertory of the New Christy Minstrels or the Serendipity Singers, and Vince Martin's "Toy Balloon," a song aimed at the subsidiary folk market for children's songs (and which might've worked very nicely in the hands of Peter, Paul & Mary). The 13 tracks off of Bleecker & MacDougal that follow are brilliant through and through, dark, serious, mostly blues-influenced originals that hold up infinitely better four decades later than anyone had a right to expect -- Bleecker & MacDougal is easily among the best records EVER issued by Elektra, and perhaps the best folk record ever put out by the label. It's all essential listening, and by themselves easily justify the $20 price of this European import -- the digital remastering is spot-on perfect, and the packaging and annotation give these two albums the treatment they've always deserved.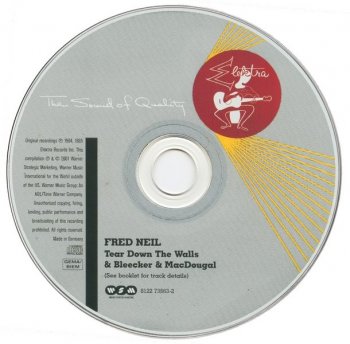 Tracks:
-------
01. I Know You Rider (Traditional) - 3:12
02. Red Flowers - 2:37
03. Tear Down The Walls - 2:38
04. Weary Blues (Hank Williams) - 4:16
05. Toy Balloon (Vince Martin) - 1:53
06. Baby - 4:340
07. Morning Dew (Bonnie Dobson) - 4:13
08. I'm A Drifter (Travis Edmonson) - 2:32
09. Linin' Track (Traditional) - 2:41
10. Wild Child In A World Of Trouble - 2:19
11. Dade County Jail - 3:04
12. I Got 'em - 3:09
13. Lonesome Valley (Traditional) - 3:07
14. Bleecker And MacDougal - 2:15
15. Blues On The Ceiling - 2:26
16. Sweet Mama - 2:39
17. Little Bit Of Rain - 2:24
18. Country Boy - 2:29
19. Other Side Of This Life - 2:58
20. Mississippi Train - 2:22
21. Travelin' Shoes - 2:19
22. The Water Is Wide (Traditional) - 4:19
23. Yonder Comes The Blues - 1:53
24. Candy Man - 2:30]
25. Handful Of Gimme - 2:16
26. Gone Again - 3:16

Personnel:
---------
Fred Neil - Guitar, Vocals
Vince Martin - Guitar, Vocals
Felix Pappalardi - Bass, Guitar, Harmonica
John Sebastian - Guitar, Harmonica
Pete Childs - Dobro, Guitar
Douglas Hatlelid - Bass

All thanks to original releaser
Внимание! У Вас нет прав для просмотра скрытого текста.